There are no easy answers for a widowed mother of three. But there is, finally, a plan. And pride.
Perseverance and planning can pay off.
Joyce lost her husband a few years ago. After a disagreement with his family, she also lost all but two acres of their 10½ acre cocoa farm. She was left with the land that was not producing cocoa well. Joyce told us, "It has not been easy since my husband passed away. My farm was in bad shape. There was a lot to do." Lack of money made it difficult to invest in the fertilizer and pesticide she needed to grow her crops.
If it weren't for Grameen's Digital Farming initiative, known locally as FarmGrow, Joyce doesn't know what she would have done.
"I was very dejected. There was nobody who could be of help to us. It was my husband who was providing everything for us before his demise. I had difficulties in paying the school fees and meeting the health care need of the family."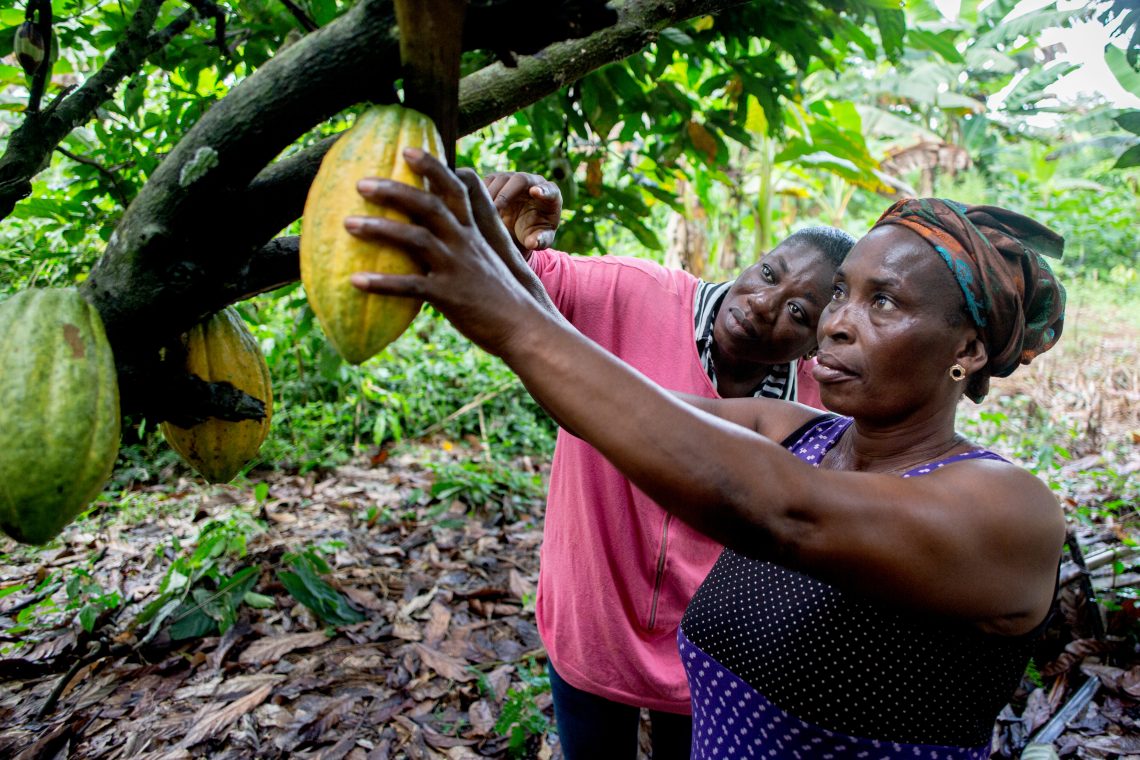 Joyce was a trader before she met her husband. He was a cocoa farmer and so were her parents. But they farmed using the old ways and things never seemed to improve. And now she had to farm alone.
When she first started working with her Community Agent Benedicta on her own, her harvest was a mere two bags of beans. Her primary recommendations were to prune, apply fertilizer and pesticides to deal with the capsid bud and mistletoe decreasing her yield. She also was told to use organic fertilizer.
"What I have taken notice of and proud of is the kind of training that we were taken through. I have followed and implemented all that were taught during the training program…These best practices have helped in improving the yields. Now I am able to get money from it to cater to the children, so I am very excited."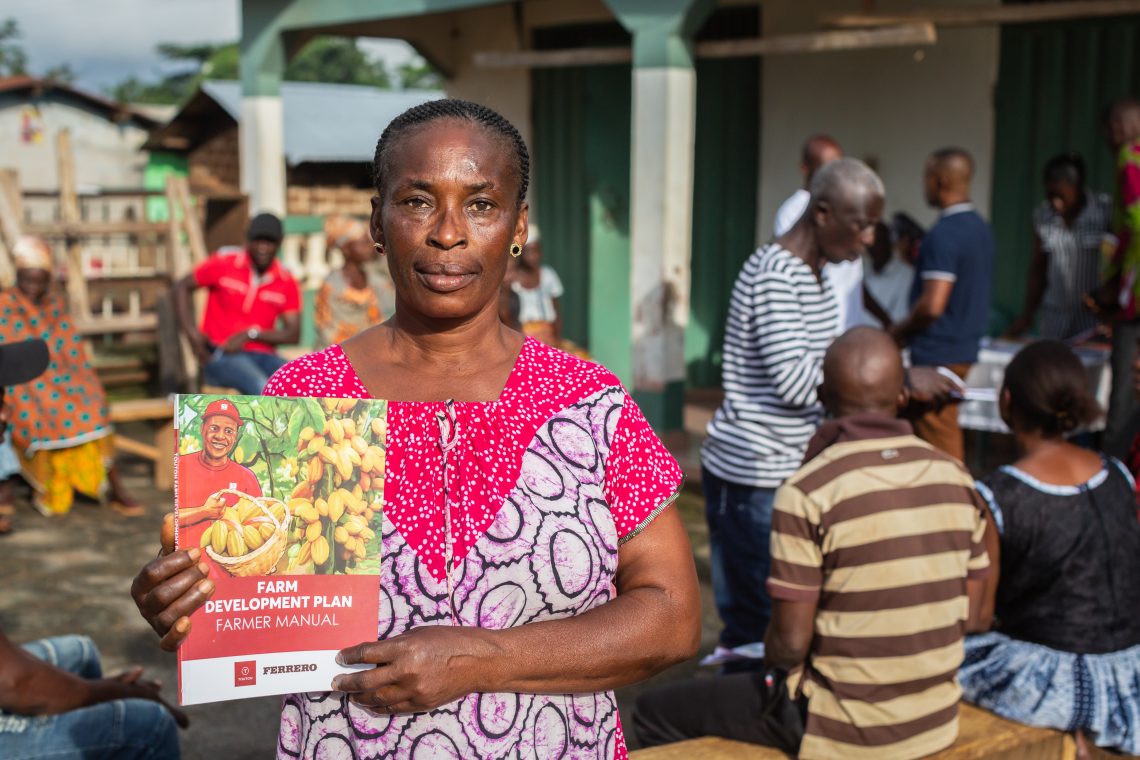 This year Joyce is excited. She is expecting six bags of cocoa. Her perseverance and planning paying off. "I am very overwhelmed because through Farm Development Plan (FDP), I am soaring higher and there is no turning back."
Now that Joyce is a female-headed household and has taken over farm responsibilities after the death of her husband, she feels that her Community Agents show they understand her needs, "Women are their first priority. They really encourage us to find a savings group or to save our money in a savings account."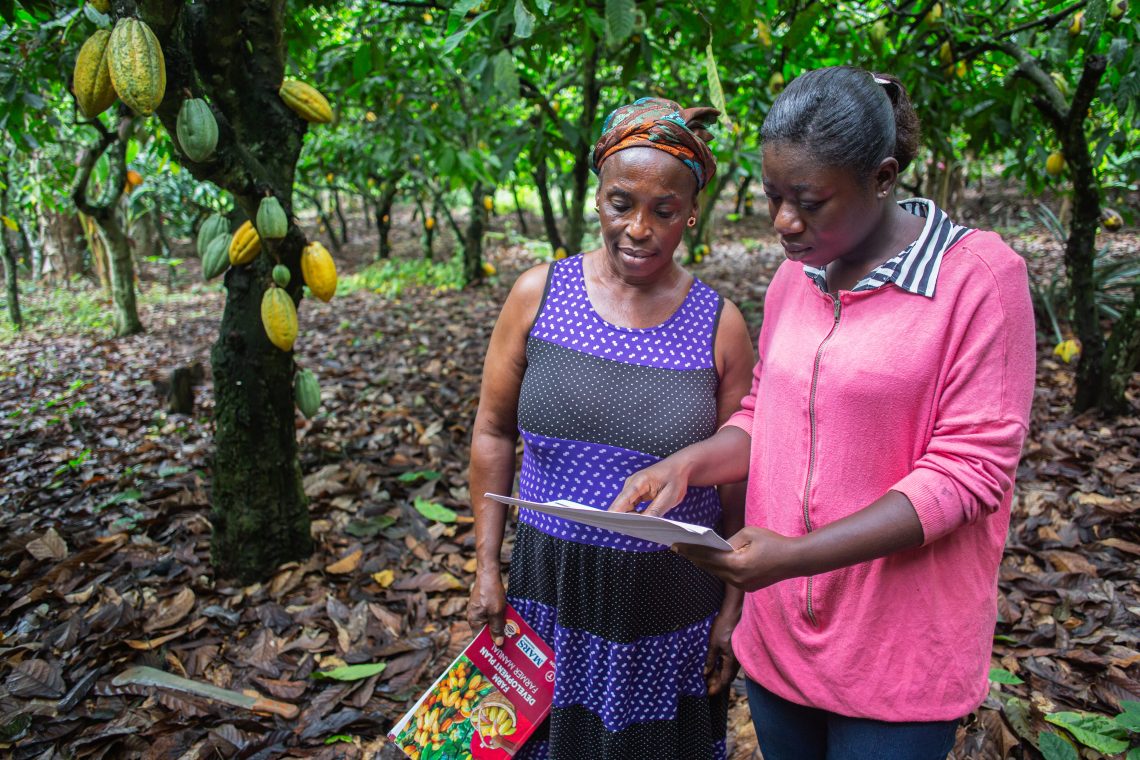 Joyce still feels she has a way to go. "I still need to practice all the good agricultural practices. But in a few years, you will come back and I'll be the best female farmer. I am a strong woman!"
Real reasons for real optimism.