We invest in, partner with, and work alongside many like-minded organizations.
The best poverty interventions are based on an evidence-based approach.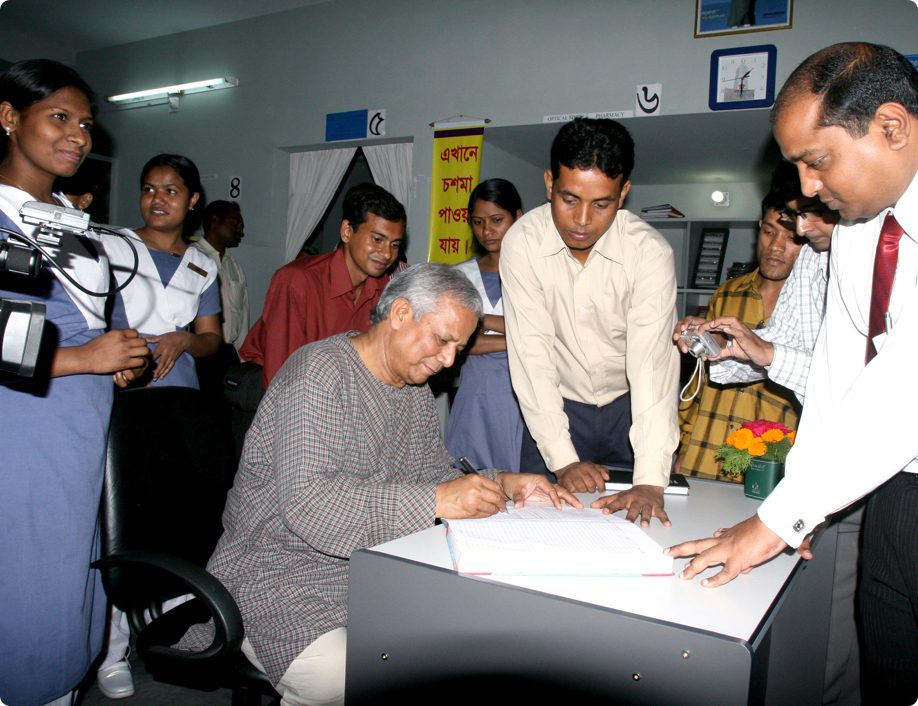 In addition to our United States operations and international offices, Grameen Foundation (GFUSA) works with two wholly-owned subsidiaries and two independent affiliates, founded and co-leads a number of joint ventures and is a sister organization of the Grameen family of organizations.
We also participate in a number of alliances that bring together the collective strength of our partners.

Support our collective mission
Catalyzing the inherent strengths and potential of the world's poor.
Impact Investing:
Capital market investments—a fancy term for moving money from the people who have it to those who need it in order to be productive—is playing an increasingly crucial role in helping developing countries get on their feet. We invest in companies, funds and joint ventures to create capital for social enterprises whose products and services benefit the poor. Moving from a "funding" model to a sustainable "financing" model enables a win for investors and a permanent escape from poverty. Our current investments include:
Grameen Capital India is a financial advisory firm that helps socially focused organizations in India obtain capital to grow and reach more clients. Founded in 2008 by Grameen Foundation, IFMR Trust and Citicorp Financial India Ltd, Grameen Capital India helps microfinance institutions get the funding and support they need to serve India's poor. Today, it works with microfinance institutions, affordable healthcare providers, low-cost education firms and others, from early-stage enterprises to established industry leaders. Its current shareholders are L&T Finance (which bought a 26 percent stake in July 2015), Grameen Foundation, Citicorp Finance, Amit and Arihant Patni. In 2015, it launched an investment arm, Grameen Impact India.
Grameen Impact Investment India is a non-bank financial institution backed by Grameen Capital India, bringing an in-depth understanding of the impact investing ecosystem and liquidity support to build scale.
Grameen Impact shareholders include leading domestic and global impact investors. Grameen Impact will use the financing to make loans to high impact social enterprises in India in sectors including financial services, affordable healthcare, affordable education, renewable energy and sustainable agriculture.
Social Enterprises:
When a for-profit venture is purpose-driven to unlock society's potential to transform itself and create measurable impact by opening up new pathways for the marginalized and disadvantaged, it is a social enterprise. Grameen Foundation is pleased to have created and spun off several of its own social enterprise initiatives (Taroworks, MOTECH and PPI) as well as partner with some of the best and the brightest.
Bankers Without Borders (BwB):
In 2008, Grameen Foundation launched BwB, in collaboration with strategic partners with Fortune 500 companies and individuals, BwB sources some of the world's brightest minds and strategically connects them as volunteers with high-potential social enterprises and nonprofits. The work of BwB is an essential partner in the fight against global poverty, with a focus on improving scale, sustainability, and impact. Growing from just 100 volunteers in 2008 to more than 23,000 today, BwB has business professionals, academics, and students from 174 countries standing ready to contribute their time, skills and expertise to strengthen poverty-focused organizations. Since inception, BwB has consulted for 264 social enterprises, donating over 27.3 million of in-kind services.
Lastly, we continue to work closely with our integrated partner, Freedom from Hunger (FFH), to provide women with the essential resources they need to end poverty and hunger in their lives.