Impact 2021: Forging pathways out of poverty
In 2021, we continued to grow our signature Community Agent Network and focus on the two areas we know are our best hope for eradicating poverty: poor crop productivity and lack of financial inclusion, especially among women. We also implemented projects focused on women's economic empowerment and on bringing relief to populations impacted by the COVID-19 pandemic. Following is a sampling of programs continued and launched in 2021, and their expected impacts.
Explore the impact of our donors, partners, staff, and Community Agents:

Digital Agriculture/Sustainable Farming
Community Agents deliver the world to poor communities
The Problem
Despite the global growth of digital technologies, half the world population—the majority of whom are women in developing countries—still has no access to the Internet and the resources the digital world offers. This digital divide has grown throughout the COVID-19 pandemic, limiting access to pathways out of poverty, especially in rural and impoverished areas.
Our Impact
Grameen Foundation recruits, trains, and equips Community Agents, mostly low-income women, to deliver digital financial and agriculture solutions, as well as hygiene and health resources to their impoverished communities. Because they are local, the Agents can overcome their neighbors' distrust of technology, bringing education, financial inclusion, and market access to their doorsteps.

Community Agents: Impact By the Numbers
3,322,915 clients have been reached by 11,696 Grameen Community Agents to date
2,398 new Community Agents were added to the Grameen Community Agent Network in 2021. Each Agent earns income as her own micro-franchise, and reaches an average of 277 villagers in her community.
904 Mittras (Community Agents) in India are currently serving 1,123 low-income villages in 5 districts.
Grameen Mittras: A Closer Look
Grameen Mittras are Community Agents in India who are trained to deliver a wide range of services to their neighbors.

This year, our Grameen Mittras have helped:
600,000 people in Nagpur district receive digital financial literacy training.
40,000 people in Nashik district gain access to government services and participate in digital financial literacy training.
100,000 beneficiaries in India Bhandara district participate in financial planning and receive digital financial literacy training.
1,500 people from the transportation community participate in capacity building and financial literacy activities.
As a Mittra, my priority is to be a confidante, a friend for my community--to help these people I call my own with all sorts of financial and nonfinancial transactions.
— Priti Omraj Patle, Grameen Mittra, India
Digital Financial Services
Financial inclusion is the bridge to economic empowerment
The Problem
Financial inclusion is widely considered a key enabler to reducing poverty and building security and prosperity. Yet, 2.5 billion people, especially low-income women and farmers, are denied access to formal financial services that can open doors to greater savings, access to capital, higher incomes, and better lives.
Our Impact
Grameen's innovative financial inclusion solutions leverage Community Agent networks and digital technologies to expand economic opportunities for poor rural women and other excluded groups. We combine thoughtfully designed financial services and digital financial literacy and business skills training with Community Agent support. This helps women and farmers manage seasonal income, cope with emergencies, and invest in education to break the cycle of poverty.
Digital Financial Services: Impact By The Numbers
9,000 Female entrepreneurs in Ghana work with specially trained Grameen Community Agents to access digital financial services, receive business and financial literacy training, and gain understanding and resources related to gender-based violence.
8,574 Female and youth refugees in Ugandan settlements participate in a savings group program that connects them to formal credit and savings services, as well as financial literacy training. This way, they can create sustained economic success of their small farms and microenterprises.
3,500 Mostly female entrepreneurs in the Philippines receive emergency COVID-19 aid and long-term management and recovery support to build resilience in the face of a crisis.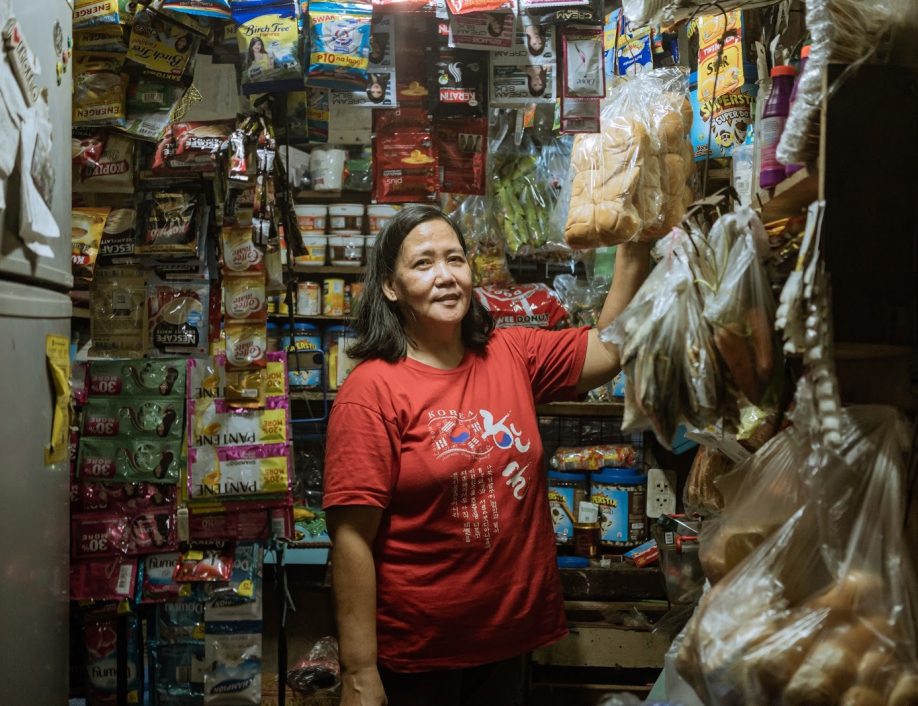 "The project was a big help to us since we used it as
additional capital to save our business."
-Nemia Madrigal, Philippines, COVID RELIEF beneficiary
Digital Agriculture/Sustainable Farming
What's good for smallholder farmers is good for our world
The Problem
Smallholder farmers produce two-thirds of the world's food. Yet, 70 percent of these 500 million farmers are perpetually poor.
Our Impact
Grameen Foundation helps smallholder farmers reduce their vulnerability to shocks, such as climate change, extreme weather events, crop diseases, pests, and market volatility. Whether delivering data-driven digital farm plans, teaching agriculture best practices, or creating connections to financial services and markets, we help poor farmers achieve sustainability and grow resilience.
It was gratifying to hear [my volunteer work] helped them see their problems with a new, fresh set of eyes. Hopefully it will help the group approach things differently and improve their operations. This small change can bring a big impact and this is what takes me back to collaborate with Grameen Foundation.
— Annette Acosta, Bankers without Borders volunteer
Agriculture: Impact By the Numbers
240,000 Cocoa farmers in Ghana work with Grameen Agents to develop 7-year sustainable farm development plans using farm data such as soil conditions along with weather and satellite data to guide their investments and decisions.
120,000 Smallholder farmers in India, supported by 40 farm producer organizations, improve their incomes and household resilience by learning to use digital data for crop diversification planning, production, and marketing, and by working with Grameen Community Agents to access digital financial services.
150,000 Smallholder farmers in Burkina Faso, Uganda, Tanzania, India, and Nepal improve productivity, incomes, and climate resilience as part of a research project aimed at strengthening sustainable farming methods among smallholder farming households using digitally supported agriculture services.
16 Host Organizations, each benefitting at least 1,000 smallholder coconut farmers in the Philippines, receive technical assistance from 64 Bankers without Borders volunteers with expertise in agronomy, financial services, agribusiness, and technology. The goal: expanding farmers' productivity, profitability, and access to financial services.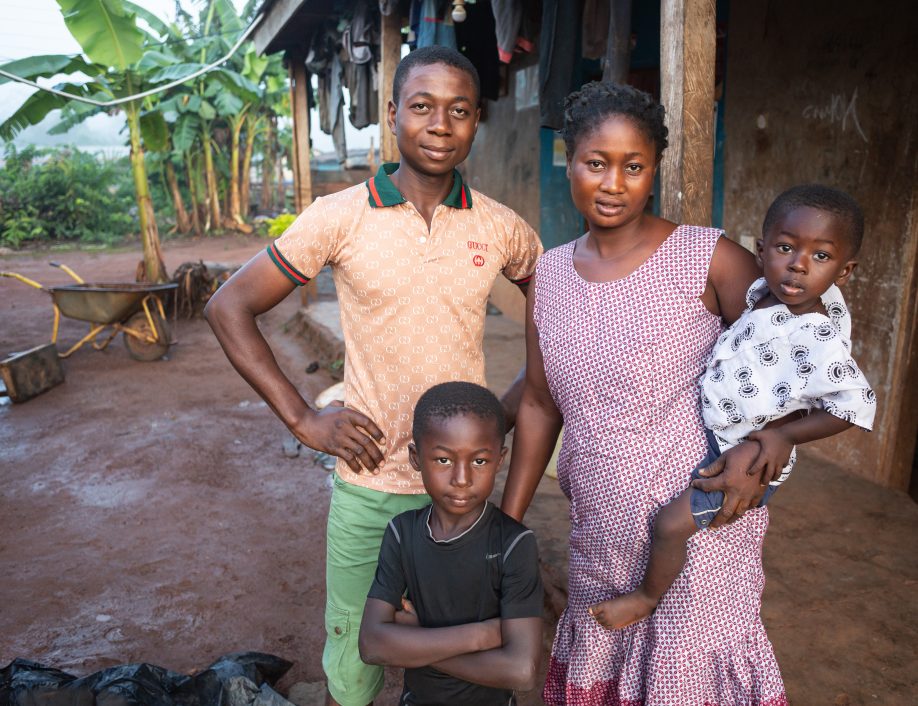 Nana Yaw says that participation in the program has brought joy to his life. He gets excited to see such direct benefit from simple things like changing his pruning methods. Every time he sees how the cocoa trees have flowered and produced lots of cocoa pods, he says he feels overjoyed. And he is most proud of the new joy in his family life. Everyone is taken care of.

My Farm Development Plan made it possible for me to get a bumper crop and as a result improved my financial status.
— Nana Yaw, cocoa farmer in Ghana
Women's Economic Empowerment
A gender-equal world begins with empowering women
The Problem
Women entrepreneurs in developing economies face a web of challenges as they pursue their businesses. Exclusion from formal financial services, restrictive laws and gender norms, lack of literacy and business skills – even gang and gender-based violence – contribute to discouraging women from pursuing businesses to improve their livelihoods.

Our Impact
Grameen uses a three-prong approach to build empowering ecosystems for poor rural women to thrive and to grow their enterprises and agriculture activities. We provide tools and training that strengthen the ability of institutions active in women's economic empowerment (WEE) to mitigate issues related to gender power and dynamics, gender-based violence, and unintentional consequences such as child labor. We provide women entrepreneurs digital financial literacy and business skills training. And we recruit and train Community Agents to reach underserved women more sustainably with digital financial services.
The most important thing in this (Gender Dynamics) workshop was to identify the myths and prejudices that are brought and acted on automatically. Becoming aware of this helps to improve–in work, in the family and in the community–how one can behave and begin to lead by example, both with words and actions.
— Will Antonio Mejia Flores, Grameen Gender Dynamics training participant
Women's Economic Empowerment: Impact By the Numbers
8,858 Women entrepreneurs supported in El Salvador and Honduras and $2,237,375 in matching funds deployed in the first stage of our WEE initiative that has now expanded to Central Asia, Eswatini, Ghana, Jordan, Moldova, and Timor-Leste. Through this program, we train financial institutions to better support female clients, we work with civil service organizations to reduce legal and policy barriers for women starting and growing business, and we provide provide female entrepreneurs access to capital.
2,300 Female entrepreneurs in the Philippines improve their capacity to use their financial assets to survive and thrive in unstable economic environments through Grameen's Resilient Life, Resilient Business curriculum, and with guidance from women mentors.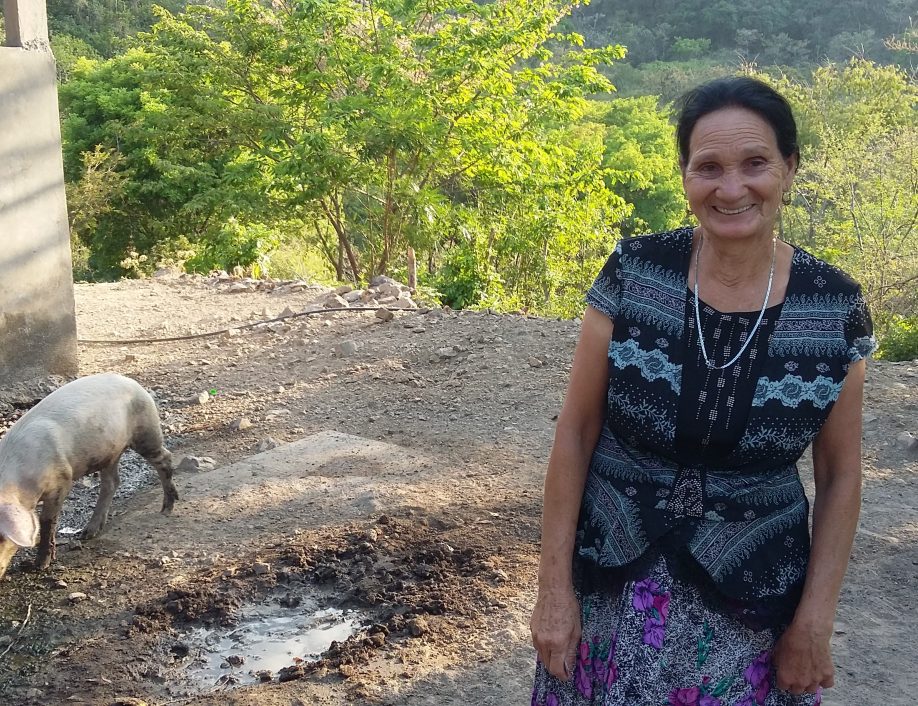 Graciana Anamorose, El Salvador, supports her family by raising pigs. With her loan, she was able to buy feed, vitamins, and anti-parasite treatments to grow healthier pigs and improve her business and income.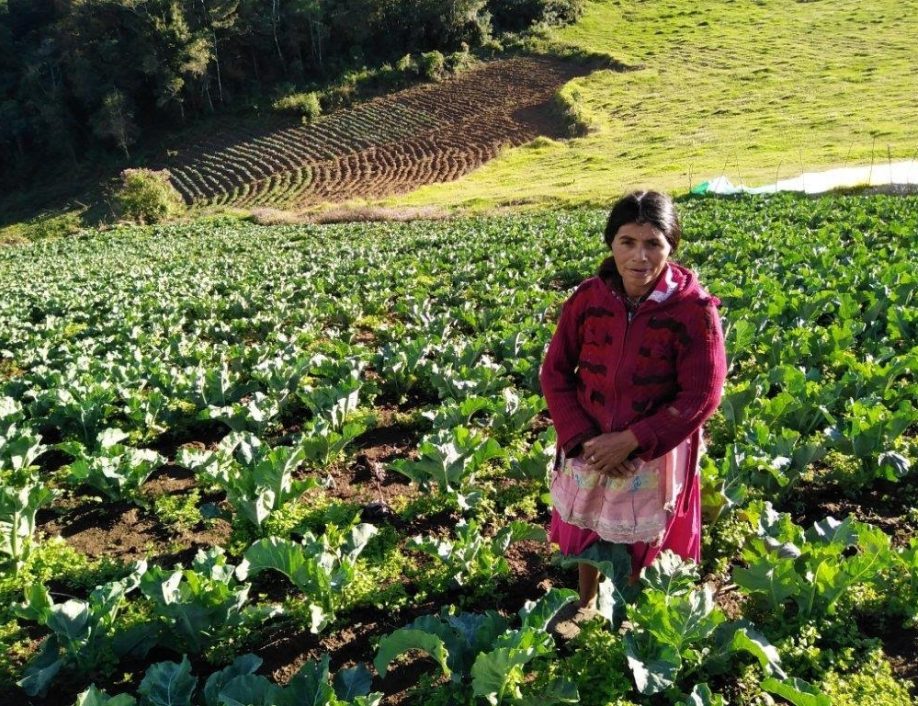 Ma. Presentación, Honduras, is a single mother who supports her three children by growing and selling vegetables. With her loan, she purchased fertilizer to improve her crops so she could give her family "a better way of life."