Creating opportunity for vulnerable women in the Pacific islands
Posted on 10/06/2023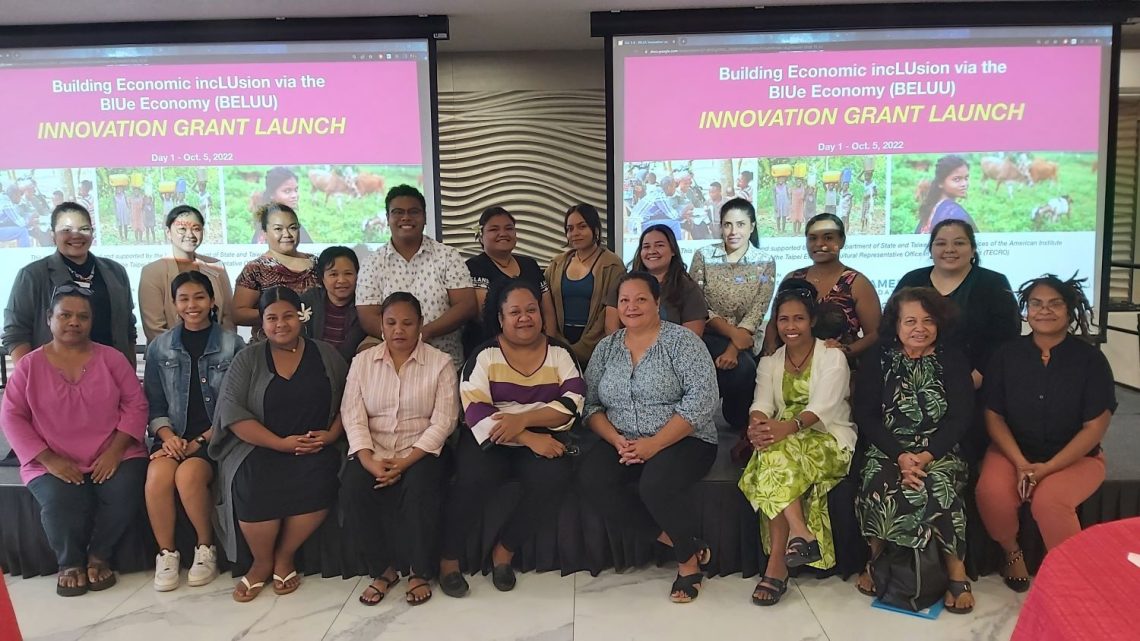 As in all of the regions where Grameen works, low-income women in island nations in the Pacific face gender bias that blocks them from entrepreneurial opportunities that could lift them from poverty.
Through our BELUU project in Palau, Nauru, Tuvalu and the Marshall Islands, Grameen is helping women and youth entrepreneurs achieve greater success in the local blue economy, which in some island nations contributes as much as 87% of GDP, according to the United Nations. Major sectors in the blue economy are coastal and maritime tourism and fisheries, in which women make up most of the workforce. But as the UN reports, they are in the lowest-paid, lowest-status, and least-protected jobs.
BELUU (Building a Economic Inclusion Via the Blue Economy) is designed to help low-income women and youth entrepreneurs reap greater benefits from the blue economy by providing them access to necessary skills, mentorship, resilience planning for business shocks, financial services, and market entry points and networks.
The project's two-pronged approach includes:
Innovation Grant Competition
To date, the program has announced 10 grant winners to help local innovators pilot or scale up projects, products, or services that assist underserved women and youth in growing their businesses and resilience. Winners receive financial and technical assistance including matching them with local, regional, and global experts, including executive volunteers from Grameen's Bankers without Borders™. Additionally, a digital knowledge exchange platform called Digital Exchange Empowering the Pacific Region (DEEPR) provides grantees with technical resources as well as tools for disseminating learning throughout and after the program.
The BELUU team successfully hosted in-person innovation grant workshops on each of the four island nations to discuss and share resources and best practices on project management, gender and power dynamics, and monitoring and evaluation of programs.
Of particular interest to participants was training in dialogue skills, part of Grameen's Gender Power Dynamics curriculum. Gender dialogue training teaches organizations and households to rethink gender norms that impede success of women entrepreneurs.
"It's about time we look into women as the center of our efforts," said workshop participant Lilian Falealuga Tine, Interim Coordinator of Tuvalu National Council of Women. "We wish [our organization] to become an implementing agency for women. We can't do it on our own. We need partners and engagement programs like BELUU to build the capacity of young women, develop good training components and establish relationships among the islands."
Community of Practice (COP)
In creating a BELUU COP, the Grameen team is facilitating an enabling community of Civil Society and Private Sector individuals and stakeholders to share information and tools that advance economic inclusion of women and youth in the blue economy.
By investing in growing and sustaining women and youth enterprises in coastal lands and cities—and the communities that serve or enable them—we can create inclusive growth and reduce poverty, while also enhancing the countries' resilience to climate change, COVID-19, and Gender-Based Violence.
This initiative is co-funded and supported by the U.S. Department of State and Taiwan under the auspices of the American Institute in Taiwan and the Taipei Economic Cultural Representative Office in the United States (TECRO).