BELUU announces the first batch of Innovation Grant winners!
Posted on 05/18/2023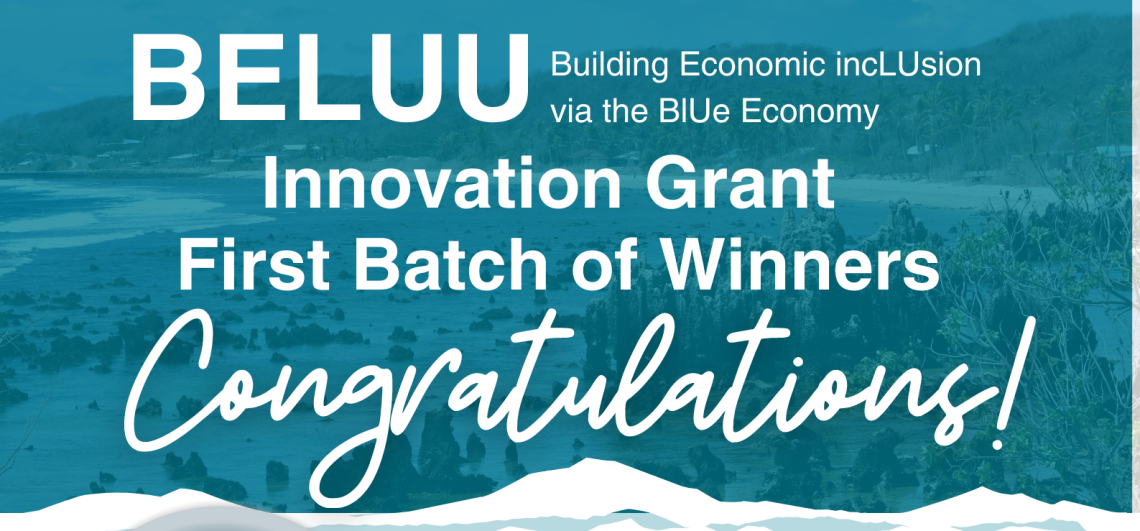 BELUU is excited to announce the first round of winners of the competitive Innovation Grant. Ten projects in Tuvalu, Nauru, Marshall Islands, and Palau will be provided with financial and technical assistance to pilot or scale up projects, products and services that meet the needs of underserved women entrepreneurs, young professionals, youth groups and entrepreneurs for their business growth and resilience.

To assist innovators in achieving the outcomes of their projects, BELUU will match them with consultants drawn from a roster of local, regional, and global experts, including executive volunteers from Grameen's Bankers without Borders™ network. Additionally, a digital knowledge exchange platform called DEEPR will provide the grantees with technical resources relevant to the project themes, as well as a platform and tools for disseminating learning throughout and after the program.

Join us in congratulating the first batch of winners!


Fakapotopotoga Fafine Ekalesia Kelisiano Tuvalu (FFEKT), Tuvalu
Project Name: Online Computer-Based Training (Marketing products online)

Nui Island Women Traditional Group, Tuvalu
Project Name: Training of Traditional Weaving Skill

Earn and Learn Agency, Nauru
Project Name: Building a Bright Future - Women in Business and English Literacy

Elefa Handicraft Shop, Marshall Islands
Project Name: Marshall Islands Elefa Handicraft shop

Miss Likiep 2022, Marshall Islands
Project Name: Likiep Kapin Iep

Belau National Museum, Palau
Project Name: Building economic resilience through new markets of craftswomen

Irene Olkeriil dba EmeralDreams Services, Palau
Project Name: DOUREOR CoWorking Spaces for Entrepreneurs

Osebelel a Charm Animal Care and Learning Center, Palau
Project Name: Encouraging Women & Youth to Seek Careers in Medical Sciences Through Access to Hands-On Medical Science Learning

Peleliu Pride Organization, Palau
Project Name: Peleliu Pride Helping Hands Project

Pura Vida Palau and Palauan Made, Palau
Project Name: Advancing Women's Economic Empowerment Through Nature-Positive Innovation and Investment

This initiative is co-funded and supported by the U.S. Department of State and Taiwan under the auspices of the American Institute in Taiwan and the Taipei Economic Cultural Representative Office in the United States (TECRO).