The Building Economic incLUsion via the BlUe Economy (BELUU) program, led by Grameen Foundation, will advance inclusive commercial engagement and women's economic empowerment (WEE) in the Pacific Islands. The BELUU program (also a Palauan word meaning "village, country or land") focuses on the power of the blue and green economies to deepen the market participation of women entrepreneurs in the island nations of Palau, Nauru, Tuvalu, and the Marshall Islands.
Overall, BELUU aims to enhance women's capacity to shape and thrive in a more connected business environment, demonstrating the benefits of inclusive development, women's empowerment, and democratic values that foster participation from all key stakeholders. Over the course of 36 months, starting October 2021, BELUU will build an environment for WEE by enhancing the capacities of various country-level stakeholders that will result in improved networks, knowledge exchange, and increased capacity to further women's economic participation in their country contexts. Furthermore, it will support women to succeed in their local economy by facilitating their access to relevant skills, mentorship, planning, and access to financial services, market and networks.
BELUU Community of Practice
The Community of Practice (COP) is a group composed of people that share the same interest, passion and skills to address women economic empowerment (WEE) concerns within the Pacific Islands. The COP aims to create an enabling environment for Civil Society, Private Sector Individuals and other stakeholders to engage and learn, voice and present insights, and share information and tools that advance economic inclusion of women in the blue and green economies. The COP will also offer a space for ideation and co-creation of WEE project ideas for organizations as well as opportunities for the BELUU team to introduce the key principles for project management including inclusion, transparency, and accountability.
REGISTER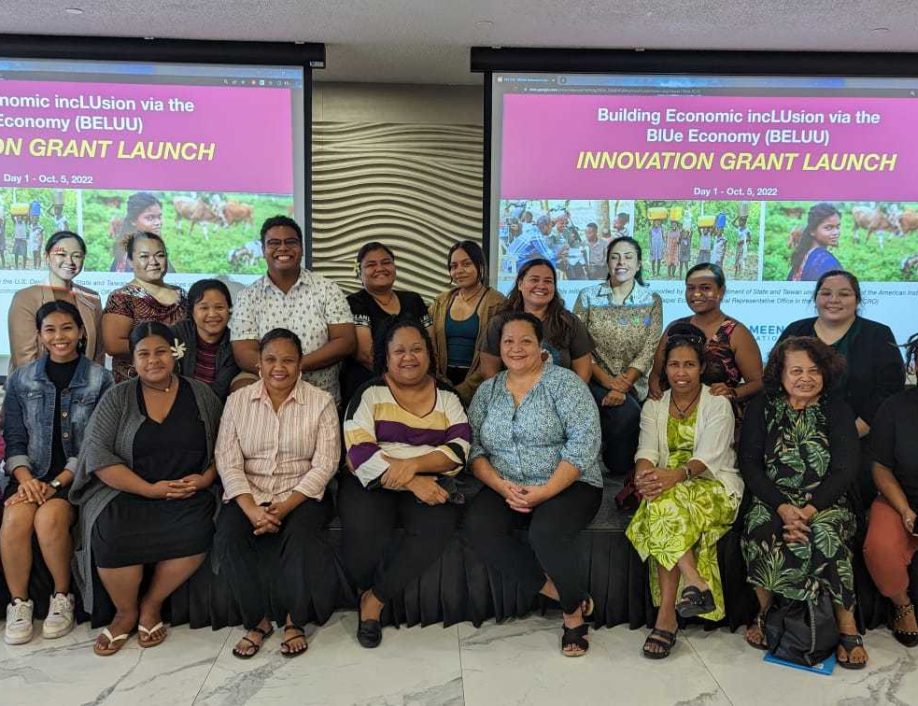 BELUU Innovation Grant
UPDATE: Final stage of review for shortlisted innovation grant applicants
The BELUU Innovation Grant is an award and funding facility providing financial and technical assistance in Tuvalu, Nauru, Marshall Islands, and Palau to pilot or scale up projects, products and services that meet the needs of underserved women entrepreneurs, young professionals, youth groups and entrepreneurs for their business growth and resilience. Each country shall have at least one (1) Innovation Grant recipient. The Innovation Grant is open to any project or product that serves and supports women or youth. These may include products or services that utilize digital financial services or digital platforms and tools because of their potential to reach underserved rural and urban women at scale. Each funded Innovation project will last 6 to 18 months.
LEARN MORE