Winning the war against Ebola requires a two-front battle.
Posted on 02/11/2020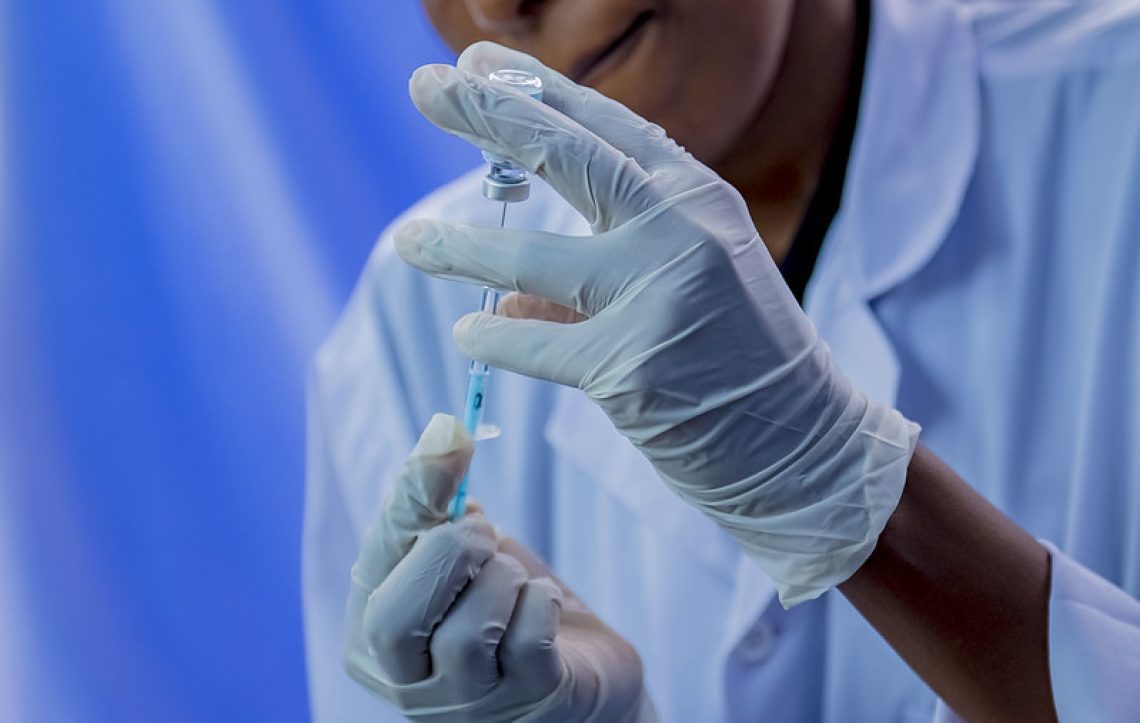 The deadly Ebola virus currently plaguing the Democratic Republic of the Congo (DRC) is spread by contact with the blood or body fluids of a person with the disease. It's also spread by rumors and disinformation.
That's why, when designing its new program to protect its citizens from the outbreak in neighboring DRC, the government of the Republic of Rwanda knew it needed a two-pronged solution to take on both causes of disease proliferation.
Their answer was the launch, on Dec. 8th, of a large-scale campaign called Umurinzi, meaning "guardian" in Kinyarwanda, an official language of Rwanda. Umurinzi's first prong is the deployment of up to 200,000 investigational Ebola vaccine regimens provided by Johnson & Johnson's Janssen Pharmaceutical Companies to at-risk Rwandans in regions bordering the Congo.
The program's second prong is where Grameen Foundation comes in. As part of the EBODAC (Ebola Vaccine Deployment, Acceptance and Compliance) consortium, Grameen is using MOTECH, its innovative mobile health platform, to keep Umurinzi beneficiaries engaged and to battle disinformation that might hinder its impact.
The Ebola epidemic in the DRC was declared in August 2018. Right from the beginning, a deluge of rumors thwarted efforts to contain it. Some denied the disease existed, or blamed immigrants for exposure to it. Others accused domestic and foreign governments - and even international aid workers - of purposefully infecting citizens. Worse still were rumors that Ebola patients were being deliberately killed in treatment centers and that blood given for testing was being used for nefarious purposes.
As a result, many DRC citizens refused to cooperate in efforts to contain the virus. They questioned the underlying science of prevention and treatment, the motivations of health professionals and the messaging from government health officials. They feared aid workers dressed in medical apparel, and shunned locals who assisted in containment efforts.
To date more than 3,000 Ebola cases, including 2,000 deaths, have been reported in the DRC.
With MOTECH, and our own two-pronged approach, Grameen and partners are working to ensure the same does not happen in Rwanda.
Mobile cell phone penetration in Rwanda is near 80 percent, meaning most beneficiaries in the Umurinzi vaccination program will be equipped with one. Using MOTECH's automated phone messaging system, Grameen will keep beneficiaries engaged by sending accurate information about the vaccine and its side effects, and personalized reminders of when to return to clinics for necessary the second dose.
As important, is our MOTS (Mobile Training and Support) Service. While Rwandan citizens may be suspicious of health advice from outsiders, they trust the community health workers (CWHs) – there are about 60,000 in Rwanda – in their own villages. Respected as these local health workers are, they aren't always well educated about the Ebola virus. Like other Grameen Community Agents, they will receive critical training delivered by MOTS in individual modules directly to their own mobile phone. CHWs will have the opportunity to train when it is convenient for them with information that is expedient and timely. This has advantages over traditional face-to-face training and has been successfully piloted in Sierra Leone. Through MOTS, they will learn how to best engage with beneficiaries, and will receive truthful health information from the Ministries of Health that they can then disseminate to their neighbors.
The training will also include information about mental health issues associated with Ebola. In the DRC, Ebola survivors are often stigmatized by families and neighbors, despite assurances that they were no longer contagious. Survivors, many of whom have lost loved ones to the disease, struggled to return to their former lives. Isolation, fear of relapse, and long-term health issues associated with the virus often lead to depression, anxiety, psychosis and substance abuse. EBODAC's MOTS Service will help community health workers identify and provide resources to survivors with mental health issues.
We congratulate the government of Rwanda for its insightful leadership in proactively protecting its citizens with its multifaceted Umurinzi program, and Johnson & Johnson for its generous donation of vaccination regimens. We are proud to support their efforts by combating the threats that vaccinations alone cannot.
As United Nations Secretary General António Guterres once said of pandemics, "The spread of false information poses a threat to people's lives, health security and to public health systems across the world. Only through a multi-stakeholder approach encompassing the fields of media and health can we counter disinformation and safeguard health for all."
Monica Amponsah is Regional Program Manager – EBODAC, Grameen Foundation