What Do Community Agents Need to Succeed? Findings From Our Research in India
Posted on 07/22/2022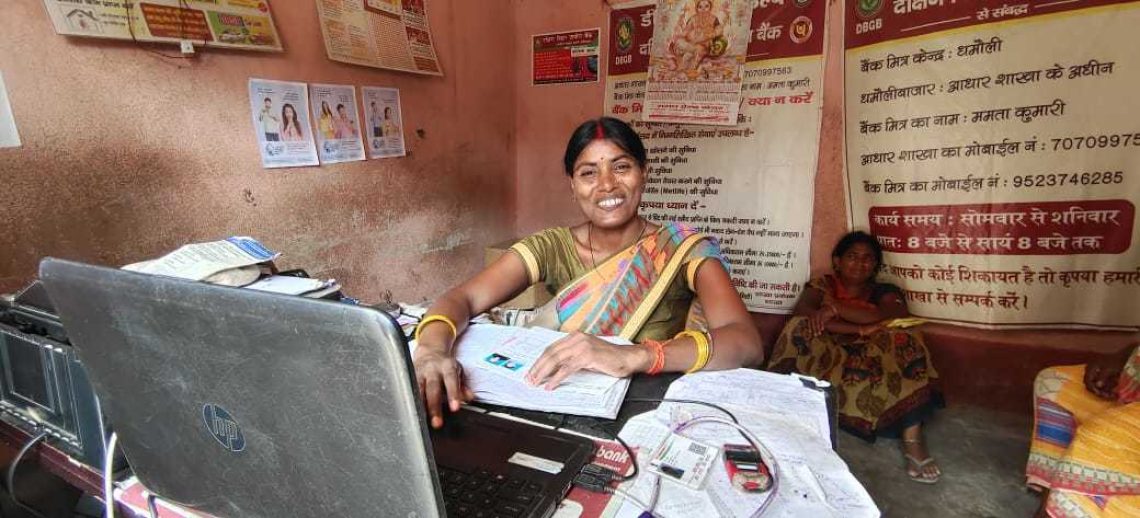 Malti is a Community Agent in rural Bihar, India. Once her kids started school, she found more time to earn additional income for her family. Her children taught her how to use a laptop and the Internet, and with additional training from one of Grameen's partners, her business was up and running.
She is one of the thousands of Community Agents, also known as Business Correspondents, we support in India. And while Agents like Malti put in the hours and dedication to make their businesses successful, we wanted to know: How can we best support them long term? What can we do to make sure they can continue to meet their clients' needs and grow their income?
To answer these questions, we partnered with the Bill and Melinda Gates Foundation to launch the Business Correspondent Network Managers Experiments and Demonstrating Scale (BEADS) project. Grameen is conducting research in nine states in India to determine whether the following is true:

Providing Community Agents (also known as Business Correspondents) with a customized, expanded portfolio of financial services will result in greater outreach to clients and more client transactions.

Gender-sensitive recruitment, training, and continuous upskilling for Agents will increase client acquisition and retention.

Client education and marketing will build trust and create greater demand, uptake, and usage of a broader range of financial services by low-income populations, especially women in rural areas.
Grameen Foundation India recently held a virtual event to share our research approach and some initial findings.
"We found that gender, location, engagement, and training all influenced the income of an Agent," said Rahul Rajan Sinha, who manages monitoring and evaluation at Grameen. Male Agents are more likely to earn more than their female counterparts, and rural Agents often earn more than their urban counterparts.
The team also found gaps in the availability of training content in multiple formats and languages for Agents. While Agents learned how to conduct financial transactions and use devices, they didn't always receive training on soft skills and on how to run a business.
We also outlined three ways to increase Agents' visibility and boost financial inclusion for NextBillion.
With better support in place, Malti and other Agents will have the potential to increase their income and serve more clients efficiently. And that means more people in India can dream bigger.

"I make a decent earning from my work as an Agent," Malti told us. "I have been saving my earnings to help my children's dream of becoming engineers one day."

You can watch the full webinar below.