Lessons in designing online education to empower women.
Posted on 01/02/2020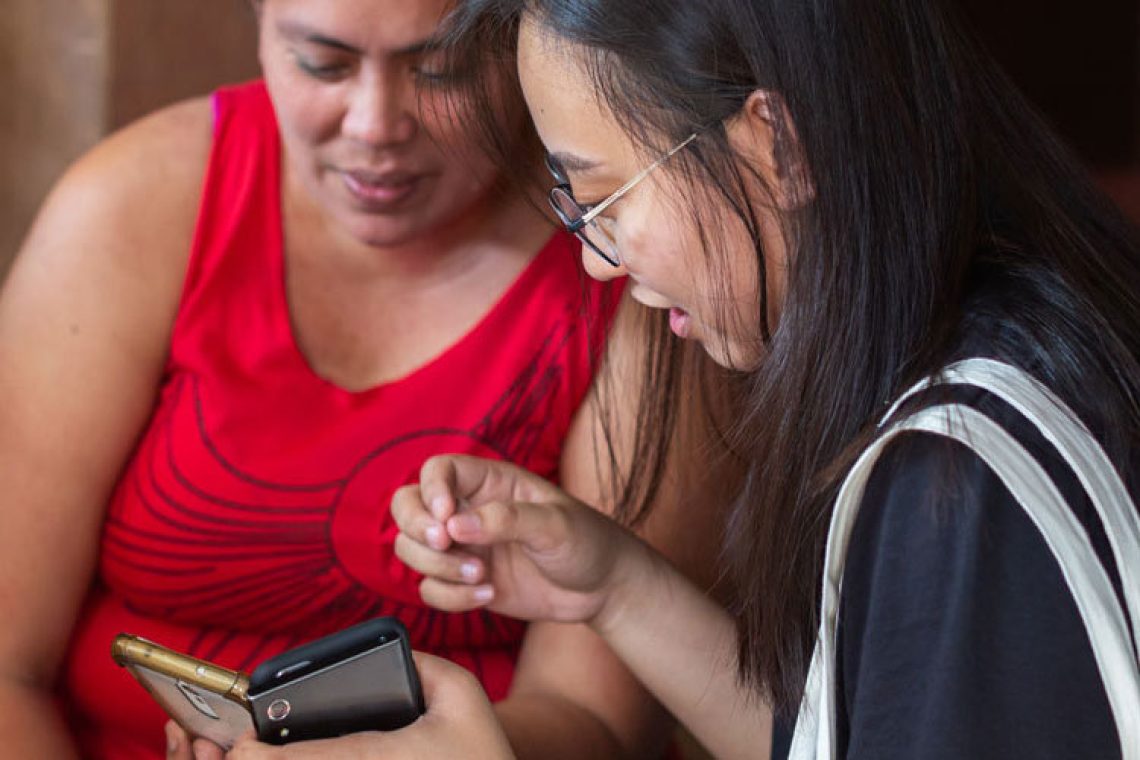 In 2015, Grameen Foundation launched the Community Agent Network (CAN). Its goal was to improve the resilience of the financially unserved and underserved by building a last-mile network of Grameen Community Agents in micro and small neighborhood shops to provide digital financial services (DFS) to their neighbors in remote villages in the Philippines.
Seizing on CAN's potential, Grameen Foundation launched the WomenLink Philippines program in 2017 with the goal of fostering economic empowerment of financially excluded and underserved women through the transformational use of digital financial products and services. WomenLink picks up where CAN left off by encouraging client adoption of these services so that Filipino households can fully realize the economic value that DFS platforms can offer.
In Year 1 of WomenLink, Grameen was able to implement an SMS-based financial education program. The text messages featured short but actionable financial tips and reminders, which resulted in positive changes in the behavior of the participants such as an increase in the number who saved, and the amount saved.
In 2019, WomenLink will build on that progress by further training Community Agents in sari-sari stores on the delivery of DFS to their customers. To overcome logistical difficulties involved in conducting face-to-face training, Grameen partnered with HABI Education Lab to design and pilot an online course that our Community Agents can access on their phones. Although it was a unique opportunity to make an impact on the lives of these women agents, online adult learning in the Philippines presents unique challenges. Here we discuss some of the challenges encountered in implementation of this program and offer suggested action steps for others in the adult learning space.
Challenge: Time and Motivation. As children, our learning was very structured. We were required to spend five to eight hours in school and bring home activities and tasks to supplement our learning. As adults, we have the gift of choice. We decide what to learn, how to learn, and when to learn. This agency, however, is a double-edged sword: professional and personal development often falls to the bottom of our priorities because we have jobs, businesses and other responsibilities. It's easy to express interest in learning programs that promise development, but when reality sets in and we see the work involved, it can be difficult to set aside time for it.
Action Step: Encourage learners to articulate their motivations through goal-setting activities that they can return to when they run into difficulties. When designing modules, incorporate activities that can easily be integrated with their everyday tasks. Many of the activities we designed for WomenLink involved Community Agents engaging their customers in deeper conversations to learn more about their needs and how they, as providers of products and services in their community, could meet those needs.
Challenge: Accessibility. Online learning often requires accessing the material through unfamiliar websites and apps, which can be intimidating for some who don't consider themselves technologically adept. We also tend to be overly cautious, treating an email from a stranger with suspicion because it might be a scam or an attempt to illegally collect our data.
Action Step: Did you know that you can use Facebook as a learning platform? You can host modules in Facebook by changing the group type to Social Learning. Posts can be divided into units and you can keep track of who's reviewed each post when they click the "Done" button. Hosting modules on a familiar platform ensures that learners can focus on learning, instead of spending extra energy on understanding how new platforms work.
Challenge: "Seen-zoned" and other struggles. While online learning can be very positive, it can be difficult to keep learners on task. Messages are often left on read (as in no response at all) or even unread by the learner. Although we allow learners to respond to posts in hopes of sparking discussion and creating a vibrant community to share best practices and learn from others, comment sections can also be used to express grievances about things that aren't necessarily in the module designer's or community owner's control.
Action Step: Respond with empathy but be firm about what's in your control and what isn't. Send periodic reminders and celebrate efforts to engage with the material, even when deadlines are missed. Learning is an ongoing and lifelong process.
The education Grameen Foundation provides to help women improve their livelihoods is valuable, but we should not discount what Community Agents learn through day-to-day interactions with their customers and financial service providers. Ideally, the goal is for women to attain and share a collection of knowledge and best practices to help them break free of the generational cycle pf poverty by making better decisions for themselves and their communities.