Are savings groups for vulnerable populations a good idea?
Posted on 08/29/2018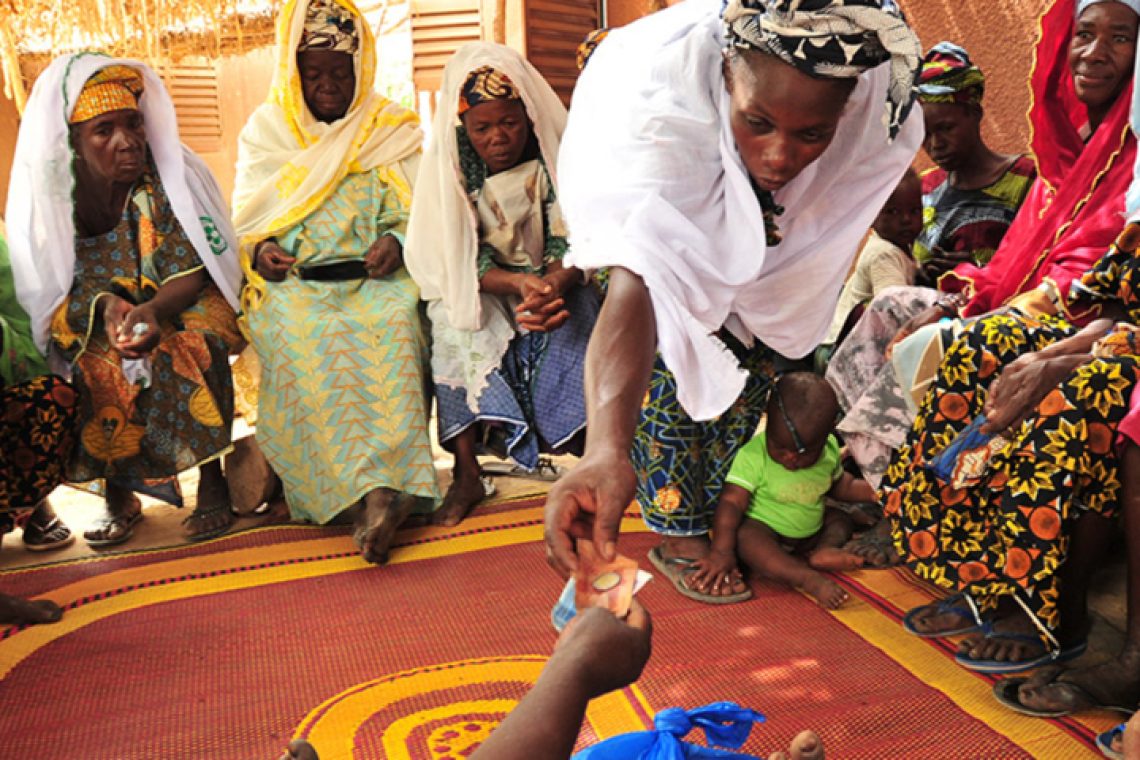 At SEEP's recent Savings Groups 2018 Conference, Sybil Chidiac spoke at a session called "Reflecting to Improve: Looking Back on Savings Groups for Vulnerable Populations." The Gateway caught up with her after the conference to learn more about this topic.

Gateway: Why do funders increasingly ask practitioners to tailor savings groups to serve specific vulnerable populations such as caregivers of vulnerable children, young women, people living with HIV, or the food insecure? If the initiative comes primarily from the funders - how do you take a top-down request like that and make sure that it works for the people involved?
Sybil: The ability to save and the power of savings is not quickly understood by many vulnerable populations. Investment and saving for future shocks take discipline that even non-vulnerable populations struggle with. Yet in Africa, the formalization of the traditional savings group model has brought about an easy and transparent routine to many people, especially those who are facing a multitude of vulnerabilities. Savings groups help their members envision a way to meet their aspirations financially, as well as have a safety net to fall back on in times of uncertainty.
When funders ask implementing agencies to focus specifically on vulnerable populations, in my opinion it is to drive two specific outcomes. First, to ensure that those who would not otherwise know the power of savings have the opportunity to contribute to building their own safety nets and learn methods to better manage their own money. Second, to drive innovations, such as the Graduation Model, that reach those who continually fall further into marginalization or are constantly left behind because of other systemic and cultural barriers. Innovations that are proven to reach the most vulnerable populations have the potential to be scaled up and make significant contributions to the Sustainable Development Goals (SDGs). From a donor perspective that is an investment well placed, and from an average African woman's perspective, these innovations can provide the opportunity for her and her family to lead a different life.
Gateway: Do groups serving vulnerable populations tend to be more homogeneous than others? And if so, does this put them at a disadvantage compared to more heterogeneous groups formed by self-selection?
Sybil: Yes and no. If groups are requested to be formed in a homogeneous manner, these groups can indeed be further marginalized or stigmatized. However, not all savings group programs target vulnerable populations homogeneously. In Rwanda for example, rural communities are able to identify the most vulnerable people and households in their community and provide targeted support to them. Individuals identified in those vulnerable households are encouraged to join a group with other community members who do not necessarily share the same vulnerabilities. This allows these households and individuals to start to integrate better within their communities and build stronger bonds. This social cohesion is key for accessing the knowledge needed to rise out of poverty in rural Africa.
In homogenous communities such as refugee or migratory communities, the self-selecting nature of the savings group methodology becomes the challenge. Essentially you don't know your neighbor, don't know her activities and don't trust her with your money, and in addition to that, you all are facing the same vulnerabilities. Community building efforts or initiatives that encourage the development of social cohesion go a long way in building the trust and rapport needed to launch the groups. These efforts can be programmed around health, governance or even agriculture. Once that initial barrier is broken and the groups are launched, we see that the members introduce specific changes that enable them to retain their diverse activities while staying committed to the group.
Gateway: What kinds of challenges do savings groups for vulnerable populations face?
Sybil: From an implementation perspective, savings groups focusing on vulnerable populations face challenges related to costs, timing and identification.
The cost of working with vulnerable populations is much higher due to the investment needed to get the populations to be at a level where they are stable enough to engage in any type of savings activity. Programs that focus on these populations have to look at ways of supporting these individuals by providing cash transfers or supporting them through initiatives that provide opportunities for employment or entrepreneurship.
This in turn affects the timing of the savings group formation and the ability for the members to reap its benefits. In looking at a ladder, it is as if these individuals have to take at least two steps up the ladder before they can reach a point where they can be active, contributing savings group members.
Finally, identification of vulnerable people has always been tricky. All savings groups are formed by self-selection; the members themselves choose to be in a group together and transact together. But when you throw in the element of vulnerable populations, you are forcing the community to include in their pool of candidates individuals that they may not have considered or even want to be a part of their group. Besides that, in order to meet donor criteria, we (savings groups implementing grantees) need to be a part of the vulnerability selection. Which means we define what vulnerabilities the project and therefore new savings groups would target, and we quantify it for reporting. That identification aspect is delicate, as we may drive further marginalization or may just not do it well. In my experience, this process requires the involvement of the community leaders and a set of clear criteria for the types of vulnerability sought. Crafting a plan for identifying vulnerable populations often takes time and this process ends up affecting the timing of the savings group formation as well.
Gateway: What kinds of support or solutions can help these groups to face the challenges?
Sybil: Community Dialogues can help communities open up and understand vulnerabilities existing next door which they may not have been aware of. Through these dialogues, communities come together to suggest ways of support to access trainings, groups or other interventions that can help their vulnerable members get to a position of stability.
A community champion who works with or is part of the local leadership can also help vulnerable populations. This person would be able to identify in a discreet manner the community members who need assistance, and then work with project managers to develop a strategy to integrate the vulnerable populations or make sure that their specific needs are taken into account in a disaster risk reduction or recovery plan.
Gateway: Is it possible for savings groups for vulnerable populations to become sustainable or is this a type of intervention that will always require donor support?
Sybil: I do think that we are far from finding a way to get savings groups for vulnerable populations to become sustainable. Growing interest from governments and the private sector show that less donor funding may be necessary for savings group formation overall, but we are not there yet. Even government cash transfer programs look to couple their efforts with donor support in order to provide the full package of services and support systems needed by vulnerable populations.
Reaching vulnerable communities is still in its nascent stage. Graduation program type efforts present a promising model, but have not been proven to scale due to the costs and multitude of actors that are needed to be constantly engaged.
For the time being, in my opinion, vulnerable populations will still require donor support until certain public and private sector actors play a bigger role in the overall ecosystem development that overwhelmingly contributes to the vulnerabilities these populations face.
This blog post was originally published on the Microfinance Gateway blog.