Recruiter, Student, Farmer
Posted on 03/03/2022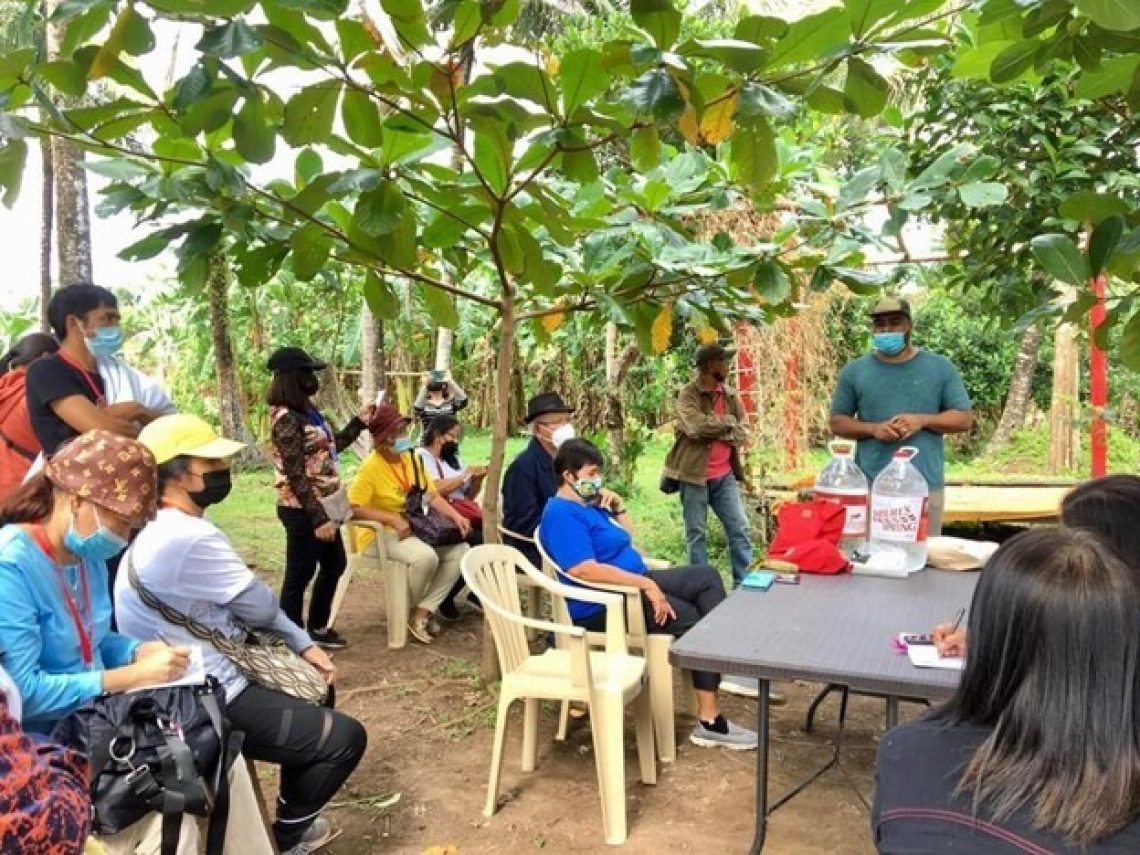 I own and operate a small family farm in the Philippines called Bukid Iluminada, which I started in 2018. Since then, we've grown our husband-and-wife team to a small number of four farmers who help with land preparation, harvesting, and general maintenance. My wife and I handle operations, sales, and marketing. I visit the farm on weekends and get regular photo updates on all activities and progress. We grow a variety of crops and raise free-range chickens, native pigs, goats, and stingless bees.
In August 2019, I joined the Grameen Foundation as its Farmer-to-Farmer (F2F) Recruiter. I was pleased to learn about their agricultural programs and was quick about diving headfirst into the opportunity. The USAID Farmer-to-Farmer program leverages the expertise of U.S. volunteers to help institutions and farming organizations in developing countries. Since I spent the majority of my life in the U.S., worked for a volunteer driven organization for over seven years, and started my own farming, this role was a great fit. I was given the opportunity to connect professionals from all walks of life with institutions that can make a difference in the lives of Filipino farmers.
As a smallholder farmer myself, I relate to the many farmers we serve through the F2F program. When news broke about the Covid-19 virus, I was disheartened to witness how the pandemic unfolded and how seemingly ill equipped the Philippines was in addressing the calamity. I saw food supply chains collapse, with people rationing produce and groceries in cities, while farmers were forced to throw away their produce for lack of buyers and transportation.
Coupled with the impact of natural disasters which affected some of the organizations we served, the pandemic caused delays to the program. With quickly changing public health policies, concerns for farmers and staff safety, poor connectivity, meetings, logistics, and coordination took a much longer time. Despite these challenges, I was pleased to learn from volunteers about their eagerness to continue to help, even remotely, in whatever capacity was needed.
When strict travel restrictions were partially lifted in parts of the Philippines in June 2020, we implemented paired assignments where remote US volunteers teamed up with Filipino professionals to carry out field work. For assignments within a few hours' drive from my home, I worked alongside local volunteers and interacted with growers and producers and observed operations on a micro level. As a recruiter, this was important since I witnessed the conditions of host organizations first hand. I was able to share my experience with potential volunteers allowing them to feel an immediate connection with the communities they would serve.
As an entrepreneur, listening to common challenges and opportunities gives me better insight into how to improve my own integrated farm. Among the things that I learned was that an important component in running a business no matter the size was financial management. I had the opportunity to engage two experts in finance and accounting to evaluate the capacity of a social enterprise that produces export-quality virgin coconut oil, GreenLife, and provide recommendations on how to improve its finances.. I joined our local volunteer, Mark Lagamia, and observed GreenLife's operation firsthand during a field visit at their head office and production site in Quezon province. Despite not being able to travel to the Philippines, our remote volunteer, Jay Ahuja, expressed his appreciation by saying, "I hope that I am provided with future opportunities where I can leverage what I have learned and gain additional knowledge of the people, business practices, and culture of the Philippines.'' Equally excited, our local volunteer said, "thank you to Grameen Foundation and GreenLife for the chance to become a part of the Farmer-to-Farmer program and the opportunity to contribute to GreenLife's mission of helping coconut farmers!" By absorbing information and jotting down notes on cost of goods sold and inventory accounting practices, I now have a better sense on how to process and track financial records.
Last year, I was able to visit the Alaminos Laguna Consumers Cooperative (ALACCO), an hour's drive from my home. I shadowed ALACCO's leader, Edgardo Magtibag, and learned about his farm operation. I witnessed harvests of lanzones and rambutan and how he worked with local buyers. He emphasized the importance of building relationships with buyers and strengthening trust. Although our work through the program was to improve ALACCO's business strategy and ultimately widen his market, those strong relationships with long-time loyal buyers bring confidence that his products will sell.
Another field visit I took was with SICAP Agricultural Cooperative. Florencio Flores, the president of SICAP, lived in my town and I got to visit his farm. It is an accredited learning site for agriculture and offers certification in agro-entrepreneurship, organic farming, among others. After visiting his farm and learning about his operations, we have since developed a friendship. I consider him a mentor and aspire to run my farm like he does. Because of this friendship, he chose my farm as one of his benchmark sites for his agro-entrepreneurship class. His students visit Bukid Iluminada and our team shares advice, best practices, farm inputs, and marketing strategies. This connection has allowed us to work with other farmers whose products we are now able to bring to Metro Manila—alongside our own produce—at higher rates than what they would usually sell them in the local market.
I am fortunate to work with F2F volunteers who share their time, talent, and energy to help communities even from the opposite side of the globe. As a farmer and entrepreneur, I became a student among the host organizations who are given the opportunity to absorb recommendations in business, marketing, finance, and strategy.
The challenges and opportunities brought about by the pandemic made me realize that the Philippines is truly resilient. We witness able communities teaming up to help farmers and we have noticed farmers not giving up. We witness volunteers working closely with host organizations on improving curriculum development, profile design, business model canvas, and good agricultural practices to help farmers become more sustainable giving hope and confidence in accessing better services and resources.
While our F2F program ends in March of 2023, the momentum continues and the knowledge gained by the program and its opportunity to cascade to other communities gives more hope for fellow smallholder farmers. This experience reinvigorates my confidence in agriculture and gives me the ability to pass on my knowledge to others and I now have a strong list of mentors I can reach out to because of this program. We are confident our volunteers will continue to develop friendships with our host organizations and we look forward to the impact it will have many years to come.