From Risk to Resilience: Financial Empowerment for Coconut Farmers in the Philippines
Posted on 08/11/2023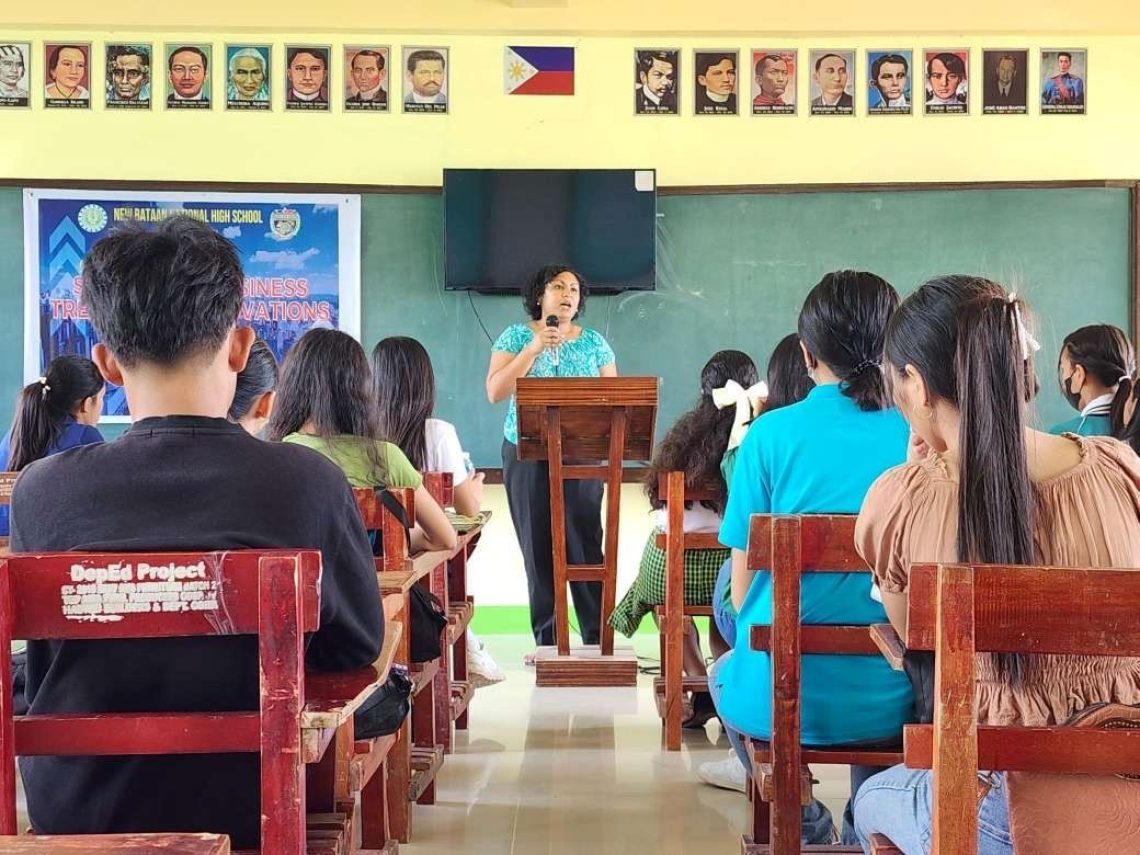 The Philippines is famous for its idyllic beaches, breathtaking islands, and its boxing and musical talents Manny Pacquiao and Bruno Mars. Perhaps slightly less known but equally impressive is its rich coconut sector. If you have bought any coconut product recently, there is high chance that it came from a farm in the Philippines. Philippines is in fact the second-largest coconut producer in the world (Coconut Production by Country 2021, 2023) with smallholder farmers accounting for 75% of coconut farms (Philippine Coconut Authority, 2022). As worldwide demand for coconut grows, the contribution of smallholder farmers will become increasingly important.
Despite their central role, coconut farmers in the Philippines have been facing numerous challenges, including climate change and limited access to financial services, with 60% living at or below the poverty line. In response, the F2F (Farmer-to-Farmer) program funded by USAID (United States Agency for International Development), and specifically its COCOS (Capacity-building of the Coconut Subsector) Program has been implemented in the Philippines in partnership with the Grameen Foundation. F2F COCOS is a multi-faceted technical assistance program aligned with the US Global Food Security Strategy, the Philippines Development Plan goals, and the National Financial Inclusion Strategy (Grameen Foundation F2F COCOS Program Overview).
Earlier this year, I had the opportunity to be an F2F COCOS volunteer in Davao, the top coconut-producing region in the Philippines, with GLAMPCO (Grow Lambo Multi-Purpose Cooperative) located in New Bataan, Davao de Oro, Mindanao. GLAMPCO serves 2,700 members and has provided its farmer clientele access to critical microcredit and market support services for over two decades (GLAMPCO Scope of Work - Loan Analysis Training, 2023). Cooperatives like GLAMPCO are essential to providing financial services to smallholder farmers who are often underserved by traditional banking and insurance systems.
Project
Challenge. GLAMPCO has experienced high default rates since Typhoon Pablo, also known as Bopha, in 2012 which was further exacerbated by the 2020 COVID-19 pandemic. High default rates or Portfolio at Risk (PAR) rates can be overcome for short periods, but a long-term trend could place GLAMPCO's sustainability and ability to provide services to its clients at risk.
Team. Preparation for this project began remotely with guidance provided by Ronald Sanchez Lim 'Sir Don' of the Grameen Foundation and with key data and reports provided by GLAMPCO manager Glenn Mar Sumagaysay 'Sir Glenn'. Once in New Bataan, we held workshops at the GLAMPCO office including Sir Don, Sir Glenn, head of loans, and loan officers all of whom provided critical feedback and insights.
My volunteer experience in New Bataan went well beyond the project itself. It was wonderful meeting the 200+ farmer members of the cooperative, almost all women, who are directly supported by this project and GLAMPCO's important mission.
— Arpita Das, volunteer
Loan Analysis. At the outset, a PAR rate trend analysis was done by different segments of the portfolio to inform recommendations and implementation of measures. The loan approval process was analyzed step-by-step, and an Excel evaluation tool was then built with updated parameters and systematized decision criteria. A corresponding review of the credit policy was also conducted.
Insurance Review. Insurance enhances financial resilience during challenging times and thus a review was conducted. The review indicated that overall GLAMPCO is well supported by insurance including weather insurance coverage. There were specific natural disaster events however, Typhoon Pablo and a recent Flood National Emergency, where claims received were not as expected.
Recommendations. These included use of the new loan evaluation tool, implementation of a revised credit policy, and liaising with the insurance company on coverage. Trainings were provided to loan officers who would be using the Excel tool, and to the board of directors who were appraised on credit policy revisions and how best to leverage insurance for GLAMPCO's protection.

Experience

My volunteer experience in New Bataan went well beyond the project itself. I had the pleasure of speaking at GLAMPCO's Annual General Meeting where I met the 200+ farmer members of the cooperative, almost all women. It was wonderful meeting the farmers who are directly supported by GLAMPCO and its important mission.

This experience would not have been complete without the kind consideration and hospitality of Sir Don, Sir Glenn, and GLAMPCO staff. I will fondly remember my last day with the team - an outing to the beautiful San Victor Island.
I also had the opportunity to give a seminar at New Bataan National High School's Accounting & Business Management Program. The students left me impressed with the caliber of their questions and comments.
Reflections
This project allowed me to bring my whole self - my technical skills, love for teaching and training, and ability to navigate different environments - to the table and gave me the chance to make a direct impact.
Additionally, the knowledge and connections gained from this experience directly relate to my work. I began my own practice in the social impact space a year ago following a long career in the private sector. Such a transition would not have been possible without the wealth of experience I gained through skills-based volunteering opportunities such as this one.
My hope is that this article has piqued your interest in volunteering, financial inclusion, and last but not least, coconuts.