F2F Volunteer Improves Chocolate Processing for Philippine Producer
Posted on 04/12/2022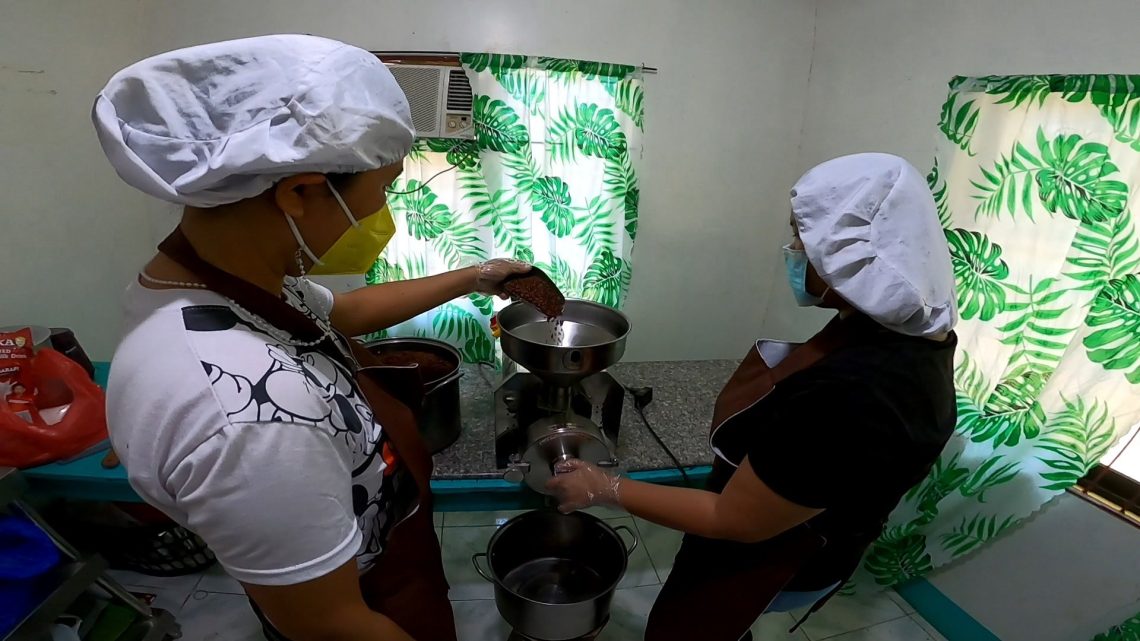 When I was approached by a total stranger on LinkedIn, I was about to ignore and delete like I would almost any message from someone I don't know. But something made me look again, and when I realized he wasn't trying to sell me something, and that it was about chocolate, I paid attention. And that began a very rewarding experience! After understanding what was being requested, I agreed to become a volunteer cacao and chocolate expert for USAID, to assist the Household Multi-Purpose Cooperative (HMPC), an association of farmers and other producers on Mindanao, in the southern Philippines. My assignment was to assist HMPC to improve the post-harvest processing of their cacao, improve processes and sanitary practices in their facility, and work with their on-site chocolate consultant to improve the quality of their final product, with an eye towards exporting fine chocolate.
I knew nothing about Mindanao, so I began to research the island, the culture, and the cacao/chocolate. I discovered that Mindanao is very diverse ethnically, religiously, in its languages, and has a growing cacao sector including some fine/flavor varieties. I was excited to begin, and I put together a simple welcome statement in Cebuano, the primary local language, for our first meeting. Unfortunately, due to COVID, all our interactions would be via Zoom, so I had to help HMPC without being able to smell, touch or taste the cacao and chocolate – a very difficult task!
I discovered a hard working and charming group of people that were an absolute pleasure to work with, hungry to know more and improve their processes and products. Like all the places I've visited in my cacao and chocolate career, they did a lot differently than in my cacao project in northern Peru, or in Switzerland where my company makes chocolate. But in the bigger picture, it's basically the same – grow, harvest, ferment, dry, roast, winnow, grind, mix, refine, conch, temper, mold and eat.
We discovered some fundamental improvements that they needed to make in their cacao processing. First and foremost, they were not giving the cacao an adequate anaerobic ferment in the first 48 hours after harvest. Without that fundamental step, everything that comes after is affected negatively. Also, I was able to guide them to implement a pre-drying process between ferment and sun-dry that really helped to develop the bean's flavors and decrease acetic acid flavors – in other words vinegar, a normal by-product of proper cacao fermentation.
When it came to chocolate making, I had less to do because I came to understand that the local consultant was in fact a talented and knowledgeable chocolatier, who was able to take the improved dry beans and make very tasty chocolate that achieved the goal of an improved final product.
Doing all this remotely was frankly difficult. I still haven't tasted the chocolate, but I was able to see the comments of al the people that did, and that helped. I had to rely on the descriptions of the staff at HMPC, the videos they sent, and my years of experience. I would have preferred to be there and see/feel/smell/taste the beans and bars, but if we all know one thing about the pandemic, it's that COVID doesn't care, and we have to find new ways to do things.

I have a dream of visiting Mindanao and HMPC someday, and I know they will welcome me with the greatest hospitality. Because this assignment verified something that I already knew from my Filipino friends over the years – Filipinos are some of the nicest, most appreciative, hardest working and most rewarding friends and colleagues anyone can have. And I discovered that volunteering through USAID to help a remote and inexperienced co-op was incredibly rewarding, an experience I would recommend to anybody with the time and knowledge to help.

Interested in learning more about Bankers Without Borders--or in becoming a volunteer? Visit the BwB site today.