F2F COCOS: Matthew Buonopane
Posted on 07/28/2021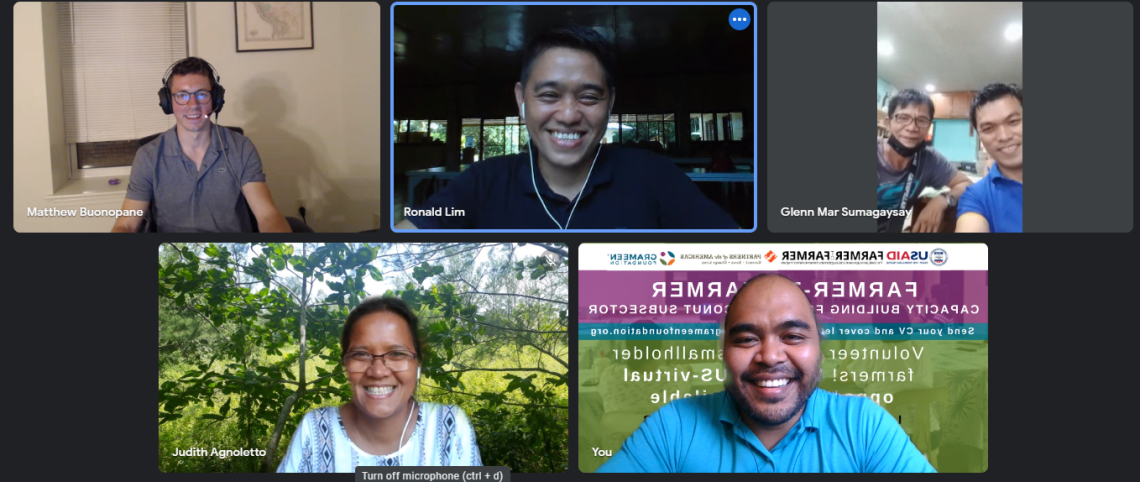 The focus of my volunteer assignment was developing a comprehensive capacity-building program for cooperative staff and subsequently for the coconut and cacao farmer members of the cooperative. The subject organization faces challenges that are unique to the coconut and cacao agricultural subsectors of the Philippines. Not only must member farmers strive to ensure fair, consistent market access for their farm's seasonal harvests, but they must also contend with both persistent droughts and sudden monsoons. The COVID-19 pandemic, of course, greatly exacerbated these obstacles.
Travel restrictions imposed during the pandemic impacted my ability to engage with the cooperative's management and stakeholders; however, working from this exclusively external perspective may have allowed me to develop a more objective capacity-building program.
In lieu of the in-person interaction initially anticipated for this assignment, I conducted ten digital interviews with the cooperative's management. We crafted a questionnaire and FGD guidelines used during a primary data exercise executed amongst farmer members in New Bataan by the organization's staff. The results of this exercise indicated that farmer members would benefit from increased access to the end market for their harvests, particularly within the closest city of Davao. The exercise also provided evidence that "trader" intermediaries present within these communities were contributing to excessive farmer indebtedness and a burdensomely high erosion of member profit margins.
Naturally, the program related to establishing direct market linkages for farmers. In addition, it was suggested that the cooperative's microloan program be supplemented with a novel refinance product. This, in addition to various other short-term recommendations, were designed to immediately support farmer profitability and financial preparedness. The longer-term capacity-building recommendations would undoubtedly require substantial participation from the local municipality and developers – most ideally, the community would prioritize vertical integration of its coconut and cacao subsectors.
For any volunteers who may work towards developing a set of panoramic solutions for improving a host organization, I would recommend adopting an organic approach. There is no substitute for open, candid discussion with an organization's stakeholders. During these conversations, you should be mindful of the narrative and assumptions that you begin to form. Confirm your assumptions through strategies such as focus group discussions, key informant interviews, or other data collection exercises. This narrative and your assumptions may provide the basis from which you develop conclusions for your assignment.
Developing this program and engaging with the cooperative's stakeholders was a wonderful experience. The report's recommendations were well-received, and I'm tremendously excited to see management's progress in executing upon these interventions. Aside from the professional satisfaction gained from working in a volunteer capacity with a culturally and economically essential organization, one of the most fulfilling aspects of this assignment was the friendships and connections I've made. I'm sure that these connections, built entirely remotely while volunteering from the other side of the planet, will be tremendously fulfilling once it eventually becomes possible to meet in person.