2022: A Year of Firsts for an Entrepreneur Development Worker
Posted on 07/27/2023
I learned how to be an entrepreneur at the university, but it was not until April 2022, 10 years after graduating, that I was able to set up my own business - co.cee co-working, the first minimalist coworking space in my hometown, south of Mindanao. It started as a personal struggle brought about the sudden shift of needing to work remotely due to travel restrictions. This created a blurry line between working and living in the same space which greatly affected my productivity. I initially resorted to working at cafes, but it led to an increase in my expenses. I found that we had an idle space big enough for a single office, so I decided to convert it to a co-working setup that I could then share on a need-based working space with others with similar woes. People would then ask why I didn't consider becoming a full-time entrepreneur?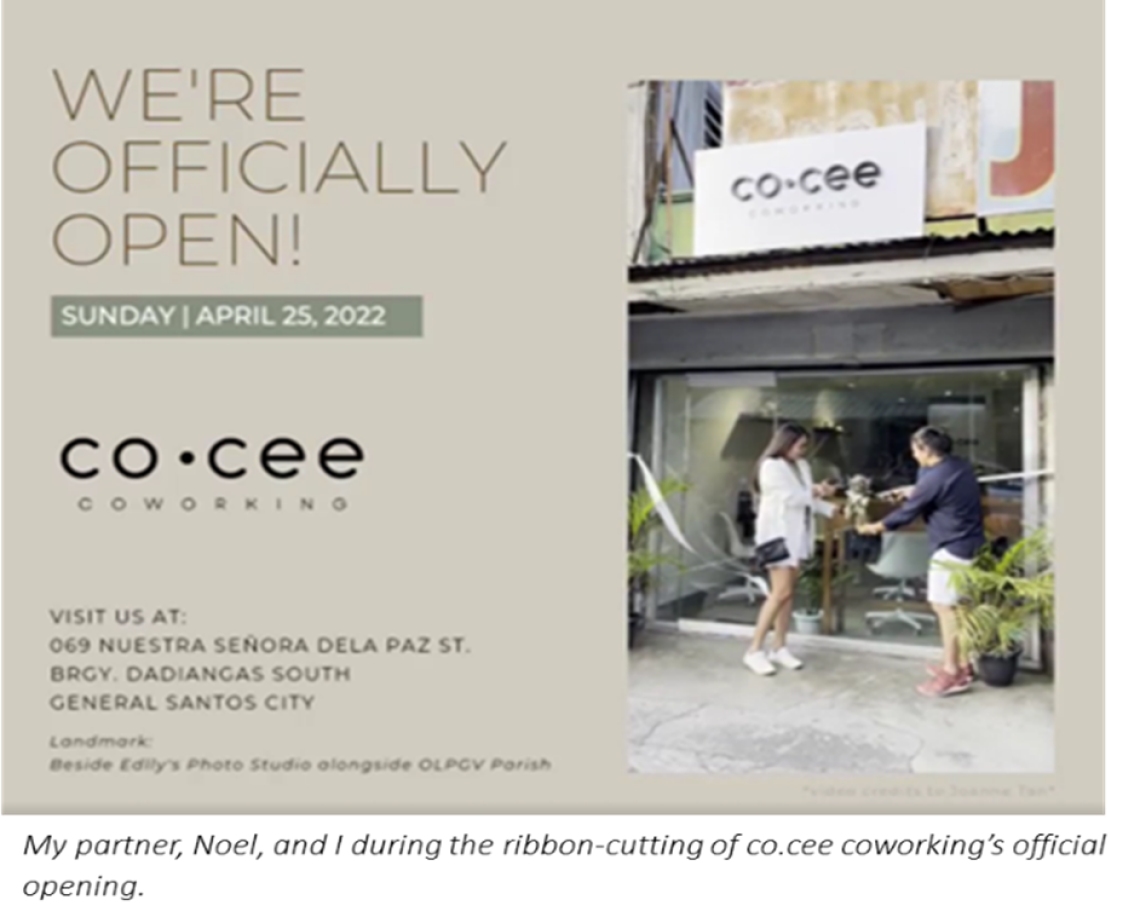 Previously, I had unexpectedly landed in Non-Government Organization (NGO) work, far from my academic pursuit and a path that I had never imagined to be on. This year marks my 8th year in the development sector, a career shift, and now a vocation I aim to sustain. To further explore the sector, I grabbed an opportunity to join Grameen Foundation USA as a Monitoring and Evaluation (M&E) Specialist, my first international NGO engagement. This was one of the very few interesting INGOs that I applied for on creating breakthroughs to end poverty by empowering women through technology, using digitalization as a tool and the people served as the catalyst of change. One of the projects that I was assigned to was the USAID funded John Ogonowski and Doug Bereuter Farmer-to-Farmer Program Capacity-building of the Coconut Subsector Program in the Philippines (F2F-COCOS). The odds were even more in my favor when I was tasked to accompany the first in-country US volunteer assignment after two years of travel restrictions.
Anthony (Tony) Timmons, a volunteer from the Bankers without Borders (BwB) and a Professor from University of Nevada, California USA, welcomed this assignment at the drop of a hat. He was assigned to train Household Multipurpose Cooperative (HMPC) on marketing and promoting their chocolate products. HMPC started operation as a microfinance institution and later transformed into a cooperative with 3,452 members, including 786 cacao farmers. They currently process about 20 tons of cacao into chocolate bars and offer other cacao-based products such as cacao tablea, cacao nibs, cacao vinegar, and cacao blue ternate tea. To market their products internationally, HMPC needed help in creating marketing promotional materials to attract new customers.
Thanks to their consistent efforts in partnering with the public sector, HMPC received various forms of support to further add value into their cacao productions including a chocolate processing facility from the Department of Trade and Industry (DTI) through the Rural Agro-Industrial Partnership for Inclusive Development and Growth (RAPID) Project. Since 2020, F2F COCOS has been providing various technical support. US-based Volunteer Annette Acosta conducted a financial risk evaluation and Brian Horsley improved its cacao profile, all done remotely! To date, HMPC can boast of highly improved chocolate products that are slowly getting traction in the local market.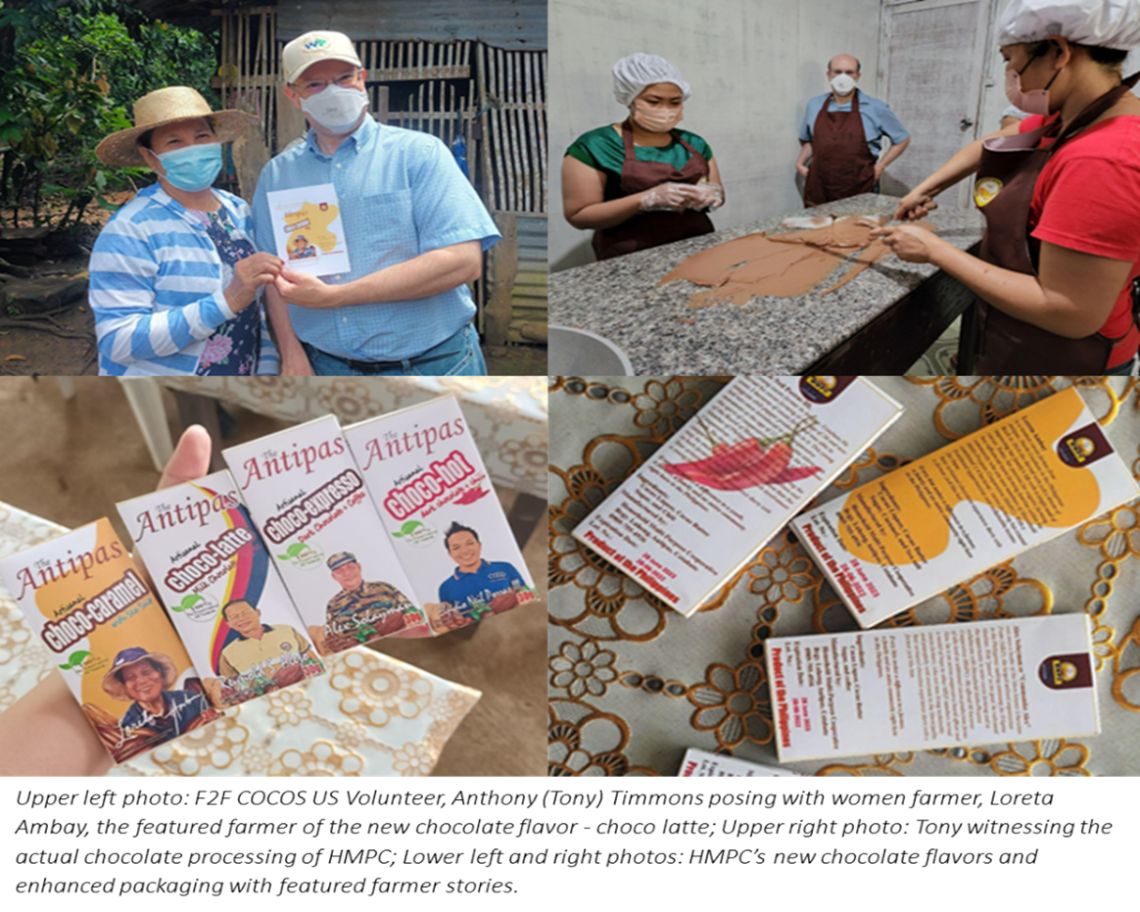 One of Brian Horsley's recommendations was to work on improving their marketing approach and visibility. This was where Tony's technical expertise was put into action. After his exposure to HMPC's chocolate making processes and consultation meetings to reassess their marketing plans, he suggested improving on boosting their market by:
Standardizing their brand "The Antipas" (including the identity design, font, and color palette) as geographical origin retention for buyers coming from different places;
Adding more varieties to their chocolate products (choco-caramel, choco-latte, choco-espresso, choco-hot) to cater to diversified market preferences; and
Reformatting their product packaging featuring farmer stories per flavor to inculcate a deeper farm-to-table connection in every box.
The recommendations were proactively and immediately applied by HMPC with Tony's guidance. Through sleepless nights and tireless days, they proposed some initial marketing studies to Tony. This opened a venue between both parties to exchange real-time insights on revamping the initial recommendations. Tony suggested to underline the challenges and successes of varying farmer stories for women, youth, elderly, and former armed groups, and match them into the new chocolate flavors to have a certain connection. After witnessing the earnest desire of HMPC to advance on this aspect and the altruistic guidance from Tony, I am positive that HMPC will go a long way with the new chocolate products.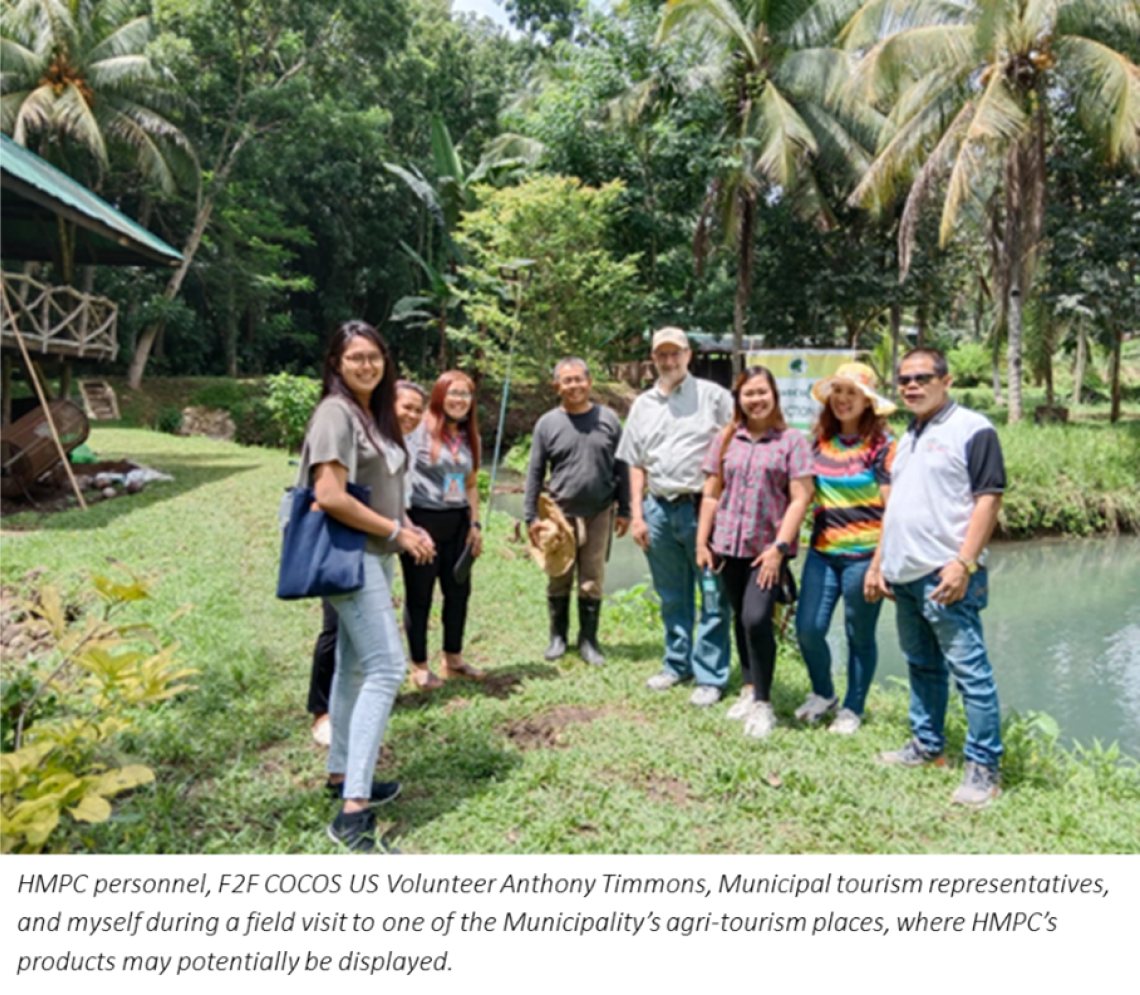 I am moved by the thought that our F2F COCOS volunteers, who are experts on their respective fields, offer their precious time, knowledge, and efforts in traveling across the world to provide pro-bono services to cooperatives who need their help. Even more in awe that the hardships brought about by the pandemic, especially to the smallholder farmers, sculpted them to be robust and optimistic in taking concrete actions and moving forward. I am amazed at how a single short-term opportunity can create a massive impact not just to one's life, but to a cooperative and a community.
Personally, I noted the importance of product life cycle marketing mix strategies, wherein an action plan had to be prepared, such as enhancing product features to propose fresh ideas, for each phase of the product life to maintain the position in the market and counter competition. As a young entrepreneur/ development worker who is in the process of learning from the wisdom of such experiences, I will not stop at cherishing these valuable firsts. Instead, I will continue to make a step forward and take this as my inspiration and motivation to put my energy into something that would create a lasting effect to a person's life, for the better.