In 2022 alone, we connected more than 2.5 million people, mostly women, with the tools and support they need to break the cycle of poverty.

Women in low-income countries around the world exhibit extraordinary power.
Often, they are the backbones of their households, doing unending and unpaid work to help their families survive.
They are capable, resourceful, and persistent.
When we work together, we can break barriers that exist for them at the systems level—such as harmful gender norms, financial exclusion, and digital divides.
Impact by the Numbers
37,500 women in Eswatini
No longer held back by financial exclusion
Through an innovation prize we ran in Eswatini, two financial service providers can now reach tens of thousands of women in rural areas. These women can download an app that helps them manage and save money, access loans, and become financially literate.
25,000 coconut farmers in the Philippines
Now growing their businesses sustainably
Grameen connected thousands of coconut farmers to digital advisory services and financial products to help them generate a sustainable supply of coconut oil, improve their livelihoods, and create a positive environmental impact.
Grameen Mittras served 100,000 clients in 2022 alone
with 50,000 receiving vaccines and 100,000 accessing digital financial services
Grameen Mittras, who serve rural villages in India, are trained to provide mobile banking and health services to their communities. Each Mittra can reach, on average, 125 clients in a year.
5,025 refugees in Uganda secured more than $72,000 USD in microloans
and Grameen agents there report earning nearly 30% more than their peers
Grameen Foundation works with village savings and loan groups in Ugandan refugee settlements, connecting them to local digital service providers and microfinance institutions. The mobile money agents we train there connect even more clients to these tools.
200,000 last-mile clients
supported by TaroWorks, Grameen's mobile data collection platform
TaroWorks, Grameen's software-as-a-service subsidiary, has clients in more than 30 countries, improving the lives of over 3 million people living in last-mile communities. TaroWorks helps entrepreneurs, social enterprises, and nonprofit organizations with data collection, monitoring, sales and inventory management.
188,417 clients
Supported by Grameen Foundation's Bankers Without Borders volunteer program
Our volunteers helped nearly 190,000 clients—ranging from coconut farming collectives in the Philippines to financial providers in Eswatini—with supply chain improvements, marketing plans, finance assessments, and more.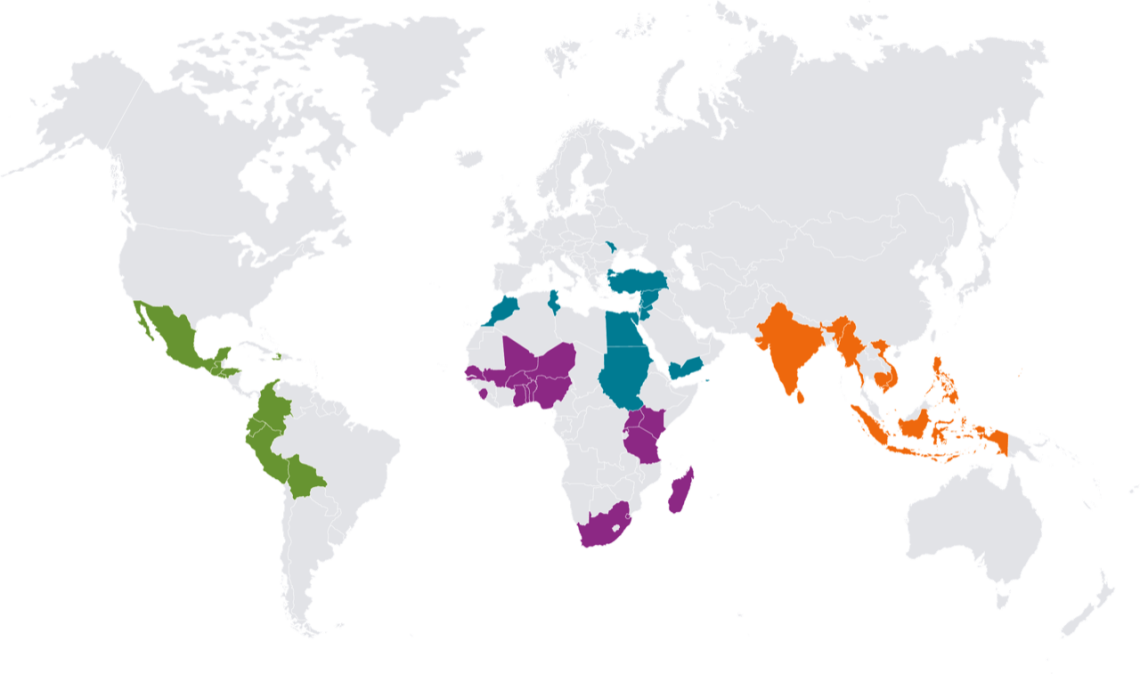 Transforming systems. Transforming access. Transforming lives.
Transforming smallholder farming with climate-smart data.
Nearly half of the world's small-scale farmers are women, yet only 15% own the land they farm on. Grameen Foundation provides smallholder farmers with text-based weather alerts and pest control, extension services so they can grow their farms using environmentally friendly methods, and even hyper-local soil data. We also connect women farmers to markets and farming organizations so they can sell their crops at a profit and learn from their peers.
Read More
Digitizing financial inclusion for women and girls.
Nearly one billion women do not have even a basic bank account. They may own a shop, have a lot of business and entrepreneurial smarts, but they cannot secure a loan. Grameen Foundation transforms the patriarchal financial systems working against them, training them to become successful digitally enabled entrepreneurs and working with households to create greater financial gender equity in their communities.
Read More
Connecting the poor to possibility with Community Agent networks.
Our Mobile Money and Digital Farming solutions harness technology in remarkable ways, but they are merely tools. What matters is what we do with them. That is where our networks of Community Agents come in.
Read More