Supporting Smallholder Farmers in Adapting to Climate Change: Grameen Foundation's Ecosystem Approach
Posted on 04/13/2023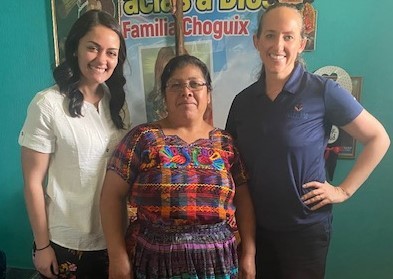 Earth Day isn't just about recycling, biking to work, or buying LED lightbulbs. It's a reminder that our world, and every person on it, is part of the same ecosystem—and that choices we can make at home have an impact thousands of miles away.
We were reminded of this when I recently visited Guatemala, home to rural farmers who are especially vulnerable to climate change threats.
There, we met women like Eva. For farmers like her, your investment in their power can bring the climate resilience they need to thrive, no matter what the future brings.
Eva is an extremely capable, hardworking farmer, business manager, and parent in rural Guatemala, growing and selling cucumbers and strawberries to local distributors.
Changing weather patterns mean that planting times are a moving target, and long droughts mean she needs to take out loans for irrigation systems and greenhouses. She relies on remittances from her husband, who works in the United States, to bolster her income and support their two school-age children—but even then, she's one illness, accident, or weather incident away from disaster.
For farming communities living in poverty, like hers, climate change has made their lives even more precarious—and they need big-picture solutions.
So when you give to Grameen, you're not supporting one-time devices or short-term fixes. Your gift would help Grameen change the entire ecosystem in which Eva lives and works.
This could mean providing training for farming cooperatives, lenders, and farmers on climate-smart agriculture methods.

It could mean distributing drought-resistant seeds to smallholder farmers, and making sure they have access to digital extension services to increase crop yields.

Or it could mean providing market access and safe banking methods to women so they can grow their profits and save for the future.

Grameen works with the communities we serve to make sure our solutions consider women's concerns, input from local partners, and careful research.
[Learn more about our farmer-producer organization partnerships at work for women farmers in India.]
Your investment in the power and resilience of women like Eva, in other words, is an investment in an empowering ecosystem. And that means a better, more sustainable future for all of us.