Making cash digital is the key to possibility.
When poor women control their own money, it no longer controls them.
In poor communities, women run the household, but husbands control the money. And in these areas, money is primarily in the form of coins and paper. That's cash that always seems to have a way of getting spent, not saved for life's emergencies or children's education. Cash she can't control.
Cash dependency also steals a significant amount of time and money from poor women. Often the nearest cash transfer service is a half a day's journey. It can consume an entire day to collect cash from government public services or employers. And it's expensive. Cash transaction fees can be as much as 90% higher than digital fees.
Now that more than 4 billion people in emerging markets have access to mobile phones, we can begin to erase the gender gaps that exist in financial inclusion.
Kusum Lata's Story
I wanted to save but I didn't know anything about saving. The bank wasn't accessible. Even if I got there, I didn't know much and the officials didn't help. I felt discouraged. The [Community Agent] came to my house and asked me all my needs. [She has] supported us at every step. I've learnt a lot...it makes me very happy, that I have full knowledge about banking. Now I tell my daughter-in-law to save for the future.
— Kusum Lata
More Stories of Change
What does it mean for a woman to finally have mobile money services?
Four big benefits.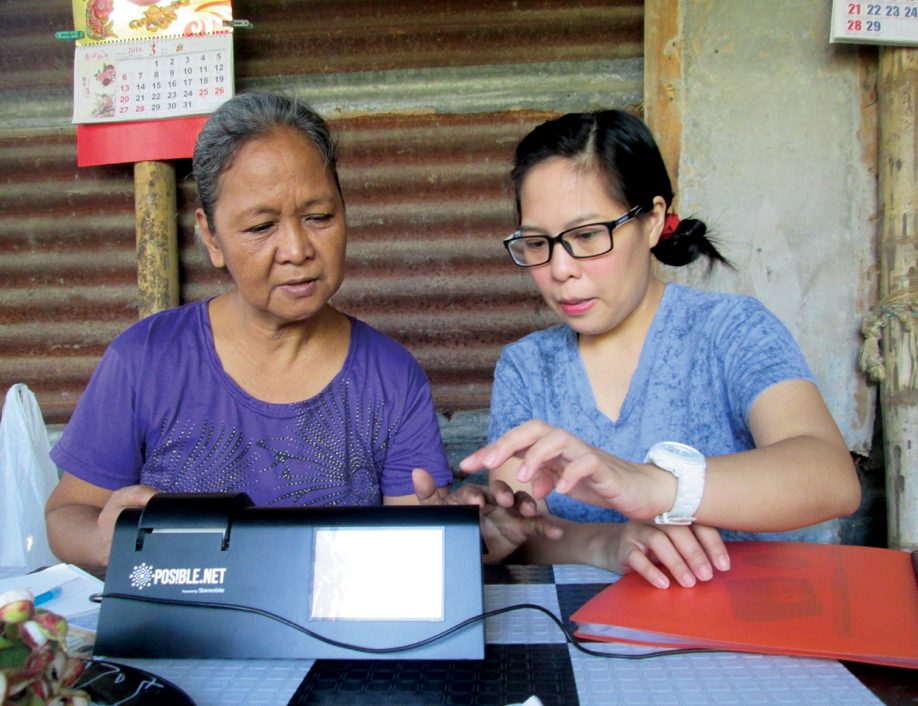 A safe way to collect, send, save and borrow money
Digital technology and mobile phones are changing how we can solve poverty. Now millions of poor women are able to connect to digital financial services that give them a voice and control over how their money is spent, saved, borrowed and invested back into their farms and small businesses.
Read More
Someone who understands you. And how to help you manage your money.
When there are no bank branches or ATMs, poor women are trapped into a cash-only existence, making it difficult to ever get ahead. Grameen Foundation develops networks of Grameen Community Agents, often female leaders in their communities, who are better able to relate to and connect poor, rural women and households to essential financial services with mobile phones. See Kusum's story
Read More
Digital savings, layaway and affordable loans for smallholder farmers
Smallholder farmers need access to savings, affordable loans, layaway for farming inputs, and digital payments to buy supplies and sell their crops if they are to ever have food and financial security. Yet only a small minority of rural adults in poor countries have bank accounts. When farmers have a digital footprint and move from cash to digital money management, it opens up full financial inclusion in the agricultural value chain and enables them to reinvest in their farms.
Read More
Wrap-around support: savings, agriculture, and health
Microfinance is a powerful self-help tool for the poor made much stronger with complementary services to improve health, nutrition and food security, and connect smallholder farmers and their families to training, information and markets.
Read More