COVID-19's lockdown has locked millions of the world's poorest and most precarious out of access to cash.
In developing countries, social protection systems often don't reach informal labor markets where vulnerable populations earn their living. According to a U.N. study, COVID will force 400 million more people under the $1.90/day poverty line through no fault of their own.

We've made remarkable progress, but COVID-19 now threatens to be the end to the end of poverty. For the first time in 30 years, global poverty is rising not falling. If the infection rate hits 20%, it will require a 60% increase in resources to bring communities back up to the global poverty line.
It requires a massive, coordinated response, yet the G7 has pushed its next meeting to November. We don't have that kind of time. As we have learned, if we don't control COVID, it will control us.
How is Grameen Foundation fighting COVID-19?
#1: Emergency cash relief.
We have urgently pivoted to put Grameen's experience, technologies and Community Agents to work distributing unconditional cash to women whose families have been hit most severely by the pandemic.
In South Asia, 33 percent of the population lives on less than $1.90 a day and loss of income from Enhanced Community Quarantines threatens to thrust SIX million more people into poverty. Through our pilot COVID-19 Emergency Relief program in the Philippines, we have worked with local partners to identify and provide cash payments to the most vulnerable beneficiaries, 96% of whom are women. The monies are going to desperately needed food and medicine and inputs to keep mall businesses afloat.
In India, where informal day workers have no government safety nets or health insurance, lockdowns have utterly devastated families. There, we have provided emergency cash to hundreds of desparate families already and we have set a goal to reach 6,000 more with funds to meet emergency needs and restart their small businesses.
In Uganda, in Bidi Bidi and Palorinya Refugee Settlements, we are working to select beneficiaries to receive a one-time cash grant that will cover one family's basic necessities for an entire month (UGX 150,000 or USD 41). Beneficiaries will be selected based on a vulnerability criterion co-developed with RUFI, a financial services organization and Grameen's implementing partner in our Bidi Bidi and FSDU SMILE efforts.
Our unconditional cash transfer pilot: How it works.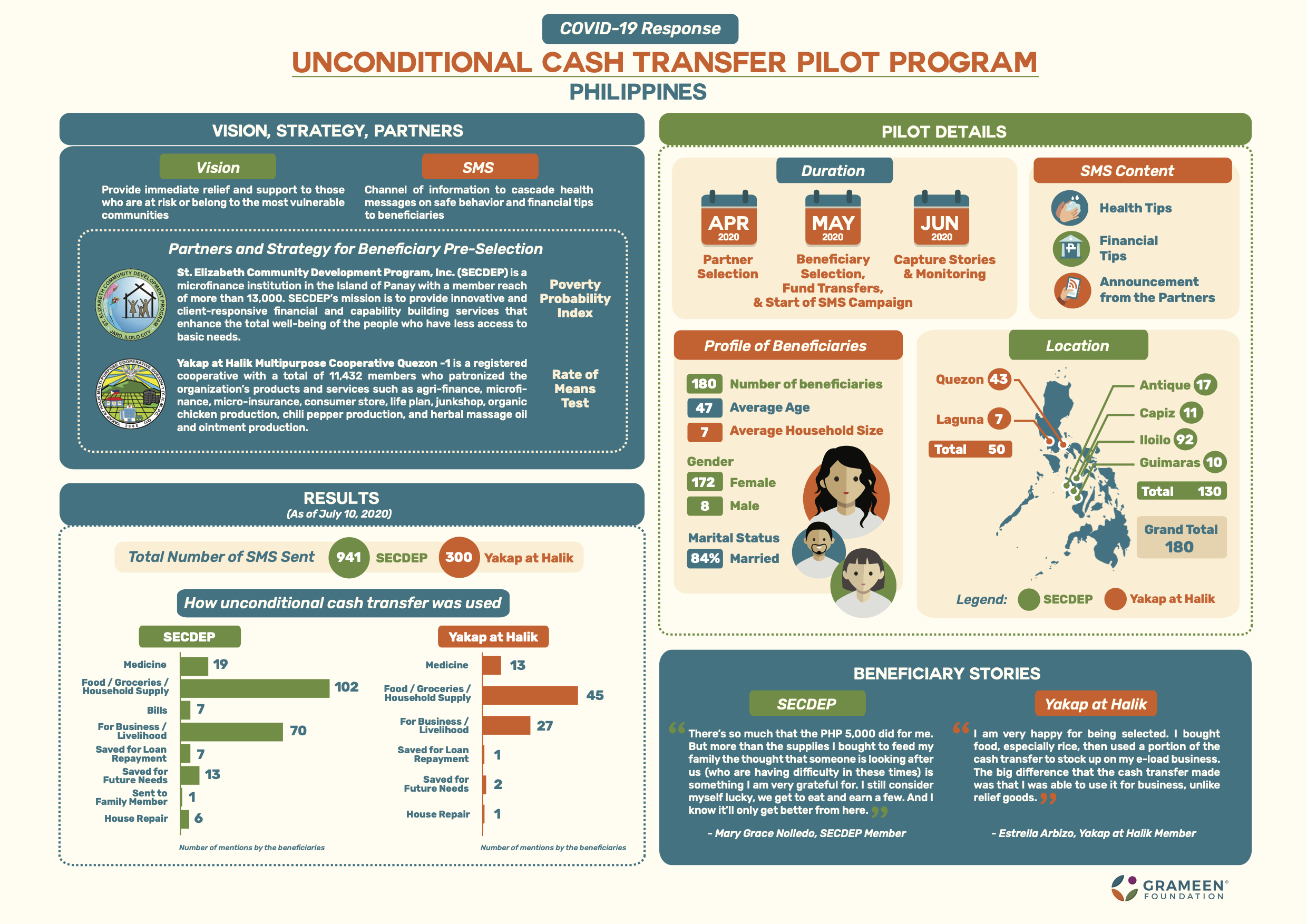 #2: Partnering to bring COVID-19 relief where it is needed most
Partnering in India to deliver emergency cash to low-to-moderate income people
India will comprise nearly half of the increase in people forced into poverty by COVID-19. Efforts to mitigate the disastrous effect of the lockdown on incomes and consumption is critical. MetLife has generously provided money for unconditional cash transfers to low-to-middle income people affected by the pandemic. Grameen Foundation will facilitate delivery of this assistance through its Community Agent Network, known in India as Mittras.

In remote areas where there are no bank branches or ATMs, poor women have a very hard time saving money to weather a crisis. Mittras—often female leaders in their communities who are better able to relate to the poor, rural women they serve—connect households to essential financial services through mobile phones. Cash transfers to these mobile money accounts will make it possible to keep food on the table and micro-businesses afloat during COVID-19.
Grameen Foundation is also, separately, piloting an unrestricted COVID Emergency Cash transfer. Our generous donors have enabled us to learn how to make future cash infusion efforts more effective over the short and long term.
Leveraging our EBOLA expertise to fight COVID-19 in Rwanda
In partnership with Johnson & Johnson, we are helping to introduce mobile tools that capacitate community health workers responding to the crisis. This effort is patterned on our highly successful partnership with the EBOLA crisis.
In all, 55,000 Community Health Workers (CHWs) will be trained on the use of the MOTS (Mobile Training and Support) to increase awareness and knowledge of critical COVID-19 information among CHWs and the community. Grameen, the the Ministry of Health (MOH), and the Rwanda Biomedical Centre (RBC) will work together to train and deploy this CHW army.
Partnering to support micro-entrepreneurs in the Philippines
In the Philippines, so many people live precariously close eo the poverty line, COVID-19 threatens to thrust six million more people into poverty.
Enhanced Community Quarantine restriction has shut down or limited local travel, stores, businesses, and offices, threatening the livelihood of much of the population. Women micro entrepreneurs, also primary caregivers, are especially hard hit.
Supported by J.P. Morgan, Grameen Foundation is helping to bring COVID-19 RELIEF (Response to Enhance Livelihoods of Individual Entrepreneurs and Families) to women entrepreneurs running micro enterprises in Metro Manila and Cebu City. In Phase I Grameen is facilitating delivery of non-cash vouchers for pharmacies and supermarkets or in-kind packages of goods distributed through MFI centers. During Phase II Grameen will deliver its Resilient Life, Resilient Business curriculum to MFIs to enhance their capacity to address the needs of women micro entrepreneur's and promote financial resilience during the COVID-19 crisis and beyond.

Grameen Foundation is also, separately, piloting an unrestricted COVID Emergency Cash transfer effort. Our generous donors have enabled us to learn how to make future cash infusion efforts more effective over the short and long term.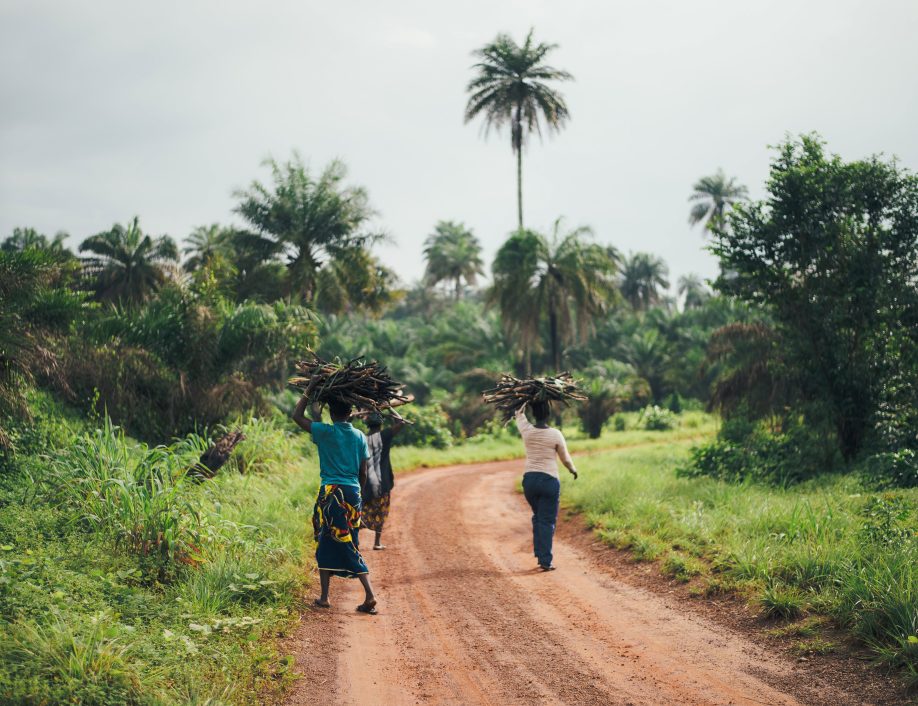 Deploying mobile training and support tools in Sierra Leone
In partnership with World Vision, we are adapting our successful Mobile Training and Support (MOTS) tool to help train 5,000 Community Health Workers (CHWs) on COVID-19 on the use of the MOTS (Mobile Training and Support). MOTS has been a critical part of our success in the fight against EBOLA.
Our MOTs system is designed to rapidly train people using mobile phones technology in remote, isolated areas. This enables CHWs to gain vital awareness and knowledge of COVID-19 information and response protocols, which in turn educates the community. A key feature of MOTs is the ability to train in the language of their choice at their own convenience.
Stories of urgent need, strength and hope
Dionicon Bengan
Surviving, with help
Dionicon and her husband lost their jobs when COVID-19 hit. So their six children would not starve, they worked as field laborers. When the lock down ended that work, they didn't even have rice to eat. They put their money to work growing and selling vegetables and are now able to get by.
Kristine Boniba
Getting by, with help
A 33 year-old mother of three, Kristine's business was crippled by COVID-19. Through Grameen's COVID-19 Emergency Relief, cash support for rice and basic necessities during the worst time of the shutdown has kept her family afloat. Short on capital but big on dreams, Kristine dreams of one day putting a grocery next to their church.
The series, which explores how the business and development sectors are responding to the pandemic, discusses the power of local women and our innovative social capital model for rural financial inclusion in India during COVID-19.
As the author's say, "Grameen Foundation and its subsidiary, Grameen Foundation India have created the Grameen Mitra model (Grameen means rural and Mitra means friend). This model has provided a lifeline for rural women and communities in Maharashtra's Bhandara district. It is an initiative of Grameen's Women-Link project in Bhandara, which is involved in educating local communities on digital financial literacy, banking modules and goal-based financial planning. Scaled up with the goal of bringing financial inclusion to far-flung rural areas by leveraging digital technologies, this model is helping the local communities in the villages of Bhandara weather the COVID-19 lockdown."