Women who have endured hardship know a thing or two.

Offer them tools and a little training, and step aside.
Meet
Comfort

, Power Woman.

There is no more powerful motivation than doing right by your children: feeding them well, giving them an education, giving them love and security. That's why Comfort joined her local farm development planning initiative. With the help of a data-driven Digital Farm Plan, and Bismark, her Grameen Community Agent, Comfort has turned around her family farm and become a successful entrepreneur in her village. Comfort's Story
Meet
Komal

, Grameen Community Agent, and her client

Madhuri

in Ajimabad, Bhandara.

In India, local Grameen Community Agents are known as "Mittras" which translates in Hindi to "Friend of the Village." Nothing could be truer.

Not only does Komal bring financial stability to her village with Mobile Money services using biometric devices that verify account holders by their thumbprints, she also brings her community together in a way people truly feel and appreciate.

Now we all call Komal Madam to perform all these financial transactions. She does it at our doorsteps and we don't have to travel anywhere. She is always there to help us.

— Madhuri, Grameen Community Agent client

Fund More Agents Like Komal


The Grameen Foundation Model for solving poverty: technology with a human face.
Good for women. Good for the family farm. Good for everyone.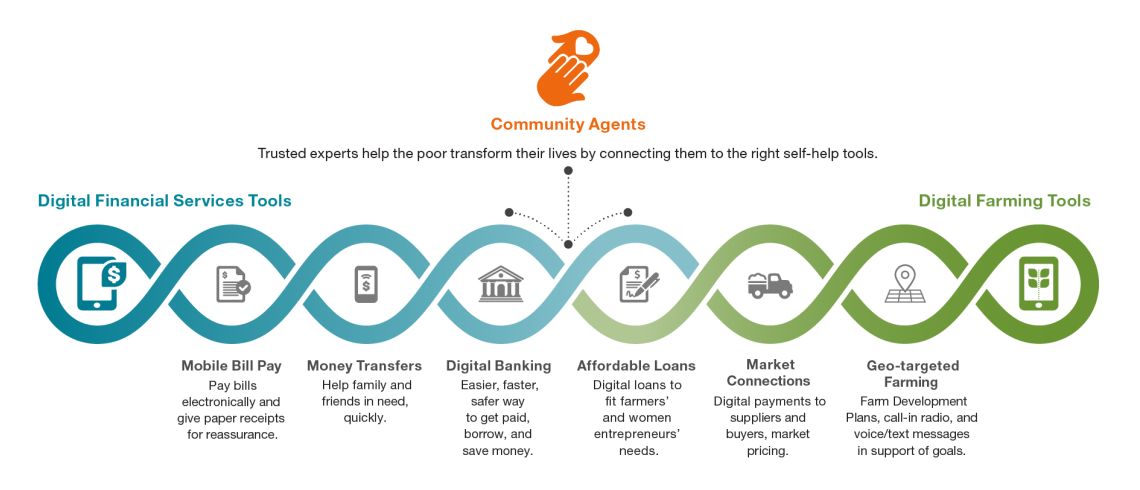 21,544,365


End-beneficiaries
690
Enterprises
255,039
Agents
through
Grameen Social Enterprises
4,026,373
TaroWorks Reach
More than 90 social enterprises have used
our TaroWork™ mobile application to
support 200,000+ micro-entrepreneurs
and improve the lives of more than
four and a half million poor beneficiaries
across 30+ countries.
411,593
Community Agents and counting

8,952,306
client outreach
and counting
Real reasons for real optimism.