Bringing financial services to the poor, through fingerprints, is only part of the story.
All about Mobile Money
Meet
Komal

, Grameen Community Agent, and her client

Madhuri

in Ajimabad, Bhandara.

In India, local Grameen Community Agents are known as "Mittras", which translates in Hindi to "Friend of the Village." Nothing could be truer.

Komal brings financial stability to her village with Mobile Money services. Ten feet outside her front door, a neighbor stops her to digitally pay her utility bill. Another ten feet, another neighbor, securing his government pension. And so on, and so on, all day long, everywhere ever she goes. It all happens with a mobile phone and a biometric device that recognizes people by their thumbprints. Often, clients come two at a time, they talk and share.

A year ago, there was no Grameen Community Agent in their village. Everything was harder. Especially for her neighbor Madhuri, who had to walk 6 miles each way, heavy with child, to the bank for her government services money. When Komal introduced Madhuri to mobile money services, a press of a thumb replaced her ordeal and her life changed overnight. Her health improved and so did her ability to save money for her new baby's education.

Komal is not just a "friend of the village", she is the glue of the village. Everyone in the village isn't just financially stronger now, they feel closer too and Komal is the reason why. She does so much for everyone and is so kind, she brings people together.


Now we all call Komal Madam to perform all these financial transactions. She does it at our doorsteps and we don't have to travel anywhere. She is always there to help us.

— Madhuri, Grameen Community Agent client

Fund More Agents Like Komal
Meet
Joyce

, cocoa farmer in Mangoase and her Community Agent

Benedicta

in Mongoase, Ghana

When Joyce's husband passed away, she didn't just lose him, she lost most of their family's 10½ acre farm. His family took all but 2 acres, giving her land they couldn't grow anything on. Thanks to Farm Development Plans that translate sophisticated digital data into easy-to-follow plan booklets, Joyce has learned how to prune and fertilize her cocoa trees back to health. She is doing better too, and it feels good to say so. Joyce's Story

I am very overwhelmed because through the Farm Development Plan (FDP) I am soaring higher and there is no turning back.

— Joyce, Ghana cocoa farmer
The Grameen Foundation Model for solving poverty: technology with a human face.
Good for women. Good for the family farm. Good for everyone.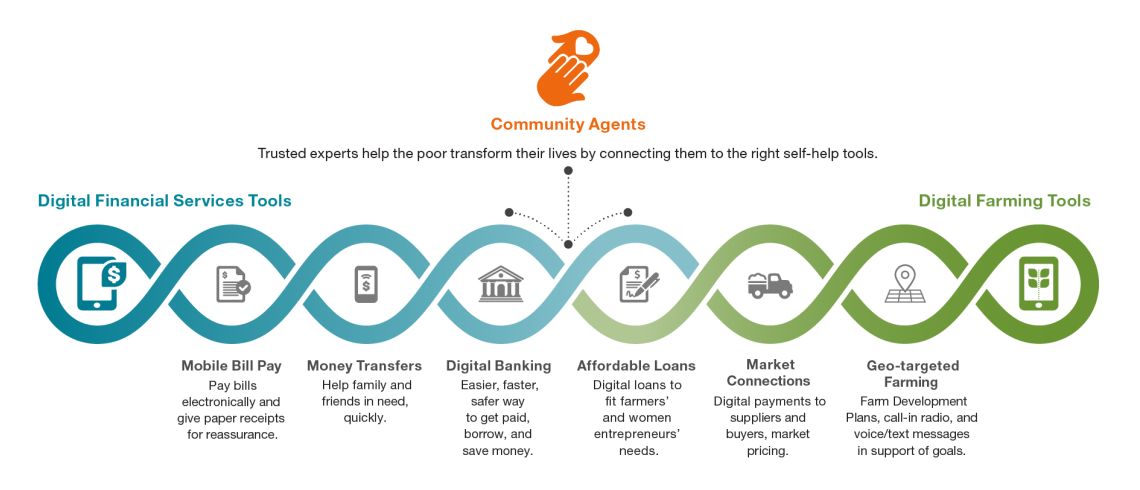 11,696
Digitally Enabled Community Agents

16,282,283
Total household members reached by Agents
14,855,919
people
Over 14.8 million people
have gained
better access to microloans,
savings accounts, and
other financial services.
4,026,373
TaroWorks Reach
More than 90 social enterprises have used
our TaroWork™ mobile application to
support 200,000+ micro-entrepreneurs
and improve the lives of more than
four and a half million poor beneficiaries
across 30+ countries.
Real reasons for real optimism.