Fewer than 600 million people remain in extreme poverty. The last mile is digital.
Be a Part of It.
Meet
Melisa

, Grameen Community Agent, and

Edna

, Philippine coconut farmer.

When Melisa registered Edna for Grameen's Digital Farm Development Plan back in October 2016, she knew it would connect the advantages of precision farming to Edna's small five-hectare plot. What did neither know? Six months later, an early warning system would help save Edna's farm from a pest outbreak that destroyed 644,000 coconut trees on Mindinao island where Edna lives. Edna's Story

I'm so happy that this (opportunity) came. It really helps the farmers. I see the result and impact to the farmers. It gives something good to them.

— Melisa, Grameen Community Agent

How Digital Farming Helps Smallholder Farmers
Meet
Jenny

, Grameen Community Agent.
Also, entrepreneur, caregiver, mother and wife.
People in Jenny's community rely on her for life's essentials. Her sari-sari shop—the neighborhood convenience store—is more than a place to buy canned goods and cooking oil, it's where everyone meets to catch with each other and the latest news. And now, because Jenny is a trained financial services agent and access point, she saves women from having to make expensive, long and often treacherous trips to the city to pay bills, borrow money or get government services. Now they have more time and money to spend on their family's needs.
Becoming a Grameen Community Agent isn't just helping Jenny help her community, it is helping her become a better entrepreneur. Jenny's Story
I have this one fish vendor. I find him funny because every time he passes by to pay his family's bill, he gives me a thumbs up. According to him, I am a genius for setting up this service in the community because it is very convenient for him.
— Jenny, Grameen Community Agent
Fund More Agents Like Jenny
Tracking our progress to end poverty and hunger.
14,986,135
total people reached
with the help
of 229 partners
since 2016
600 organizations
in 40 countries
More than 600 organizations working with
the world's poorest populations have
used the Progress out of Poverty Index®
to measure their poverty reduction and to improve their strategies for serving
disenfranchised communities.
11,696
Digitally Enabled Community Agents

16,282,283
Total household members reached by Agents
The Grameen Foundation Model to fight poverty: technology with a human face.
Good for women. Good for the family farm. Good for everyone.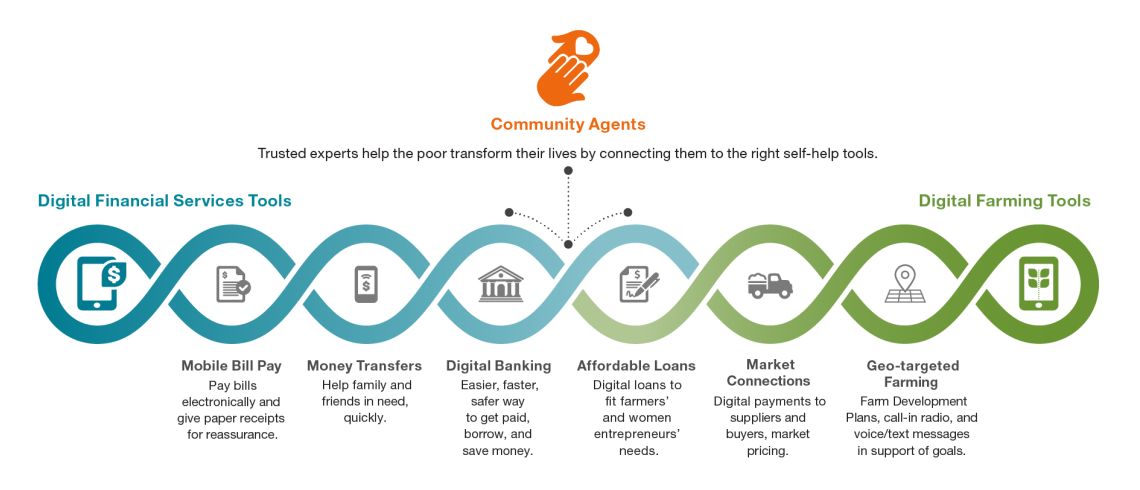 Real reasons for real optimism.